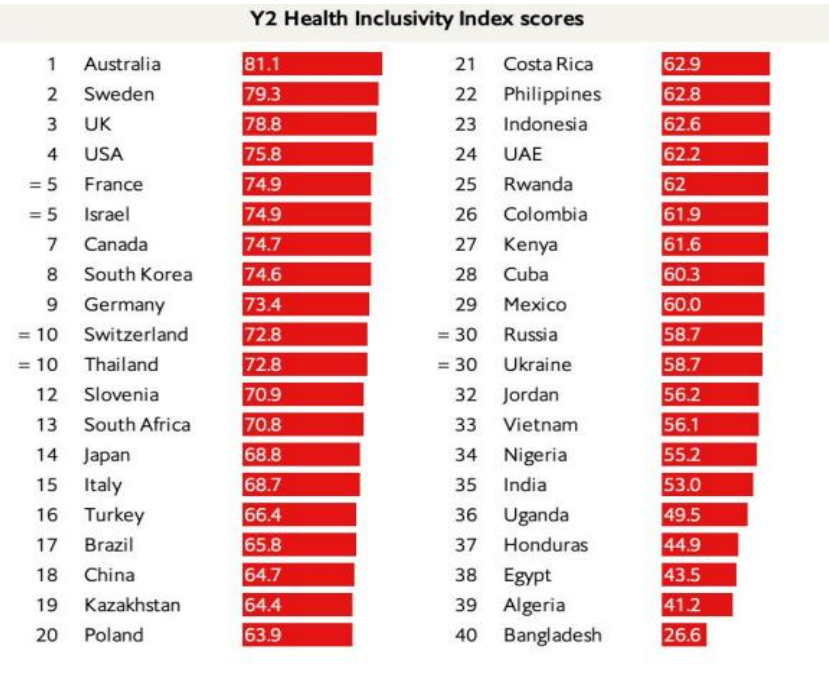 More than three in five (63%) people in the UK experience barriers to health inclusion
People in UK, Canada and France face the longest waiting times to see a GP
Health inclusivity scores fall worldwide with addition of lived experience data in Economist Impact's Health Inclusivity Index, supported by Haleon – exposing glaring policy-practice gap in wealthy countries
LONDON, Nov. 20, 2023 (GLOBE NEWSWIRE) — More than three in five (63%) people in the UK experience health exclusion according to phase two of the Economist Impact's Health Inclusivity Index, released today. The Index – which measures the extent and experience of health inclusion across 40 countries and 42,000 people worldwide – reveals that the UK's score has fallen by 13% this year, slipping from first to third place in the global rankings.
Phase two of the Index, supported by consumer health company Haleon, identifies lack of available appointments; inconvenient hours; distance and cost of travel; and lack of trust in healthcare services as the most widely reported barriers globally. In the UK, while healthcare services are widely available, with only 9% saying they've been denied access to services versus 19% of people globally, the data shows that significant barriers remain.
The Index, which this year includes the lived experience of global populations, reveals that only in Canada and France do people have to wait longer to see a GP than in the UK. Just a third of people (35%) in the UK, France (34%) and Canada (31%) say they could see a doctor within 24 hours, compared with 88% of people in Turkey, 87% of people in Rwanda and two-thirds of people (67%) globally. Nearly one in five in the UK (17%) say they would have to wait longer than a week to see their GP versus 7% globally.  ​
This barrier to healthcare accessibility is mirrored across the UK's healthcare landscape with fewer than a quarter of people in the UK (23%) saying they can access dental services within 24 hours –versus 56% globally – while only 24% of people in the UK state they can access sexual health services within this timeframe (compared with 51% globally).  
The UK is not alone in falling down the Health Inclusivity Index rankings as the inclusion of lived experience data in phase two of the Index has seen health inclusivity scores deteriorate across 85% of the countries surveyed, with all but one country scoring below 80 out of 100. The declining scores year-on-year expose a gap between governments' ambitions of delivering inclusive health policies and systems and the reality of people's experience of them. High-income countries display the largest gaps, with an average 18-point difference between their scores on inclusive health policies and experience.
Sarah McDonald, VP Sustainability and Social Impact, Haleon, said: "These latest findings reveal the inclusive health ambitions of many of the world's wealthiest countries are out of step with the reality of their citizens and there is a policy-practice gap that needs to be addressed. In the UK, while healthcare services are widely available, people are struggling to access them creating significant barriers to health inclusion and resulting in the UK's fall down the Index this year.
"Everyone has the right to live in good health for as long as possible – irrespective of age, gender, race, ethnicity, sexuality or disability. We'll be using this latest data to engage policymakers globally to advocate for greater health inclusion."
In common with last year's findings, phase two of the Index concludes that empowering people and communities to have greater agency over their own health is a key driver of inclusion. Low-and-middle income countries outperform wealthier countries in this area due to their focus on community-based services, self-care and health literacy programmes.
In the UK, the Health Inclusivity index reveals that only half of people (50%) say that virtual or telehealth services are available versus 74% in Australia and 72% in Sweden, and 48% globally – so the expansion of these services may be something that could help address the accessibility challenges.
The Index also highlights where people in the UK think they can access useful and trustworthy information about health, with both pharmacists and government websites scoring highly. Pharmacists are most likely to be trusted to provide useful and trustworthy information about health by the Canadians (75%), French (72%), the British (70%) and South Africans (70%). These findings are supported by NHS England's recent acknowledgement of the vital role pharmacies can play in helping to reduce waiting times and to relieve pressure on GPs by expanding the services they can offer patients – a move anticipated to free up 15 million appointments.
People in the UK also place very high levels of trust in the health information available on government websites, such as the NHS website. Nearly two-thirds (62%) say they can access useful and trustworthy sources versus 43% globally, and more than any other country worldwide. ​
Jonathan Birdwell, Global Head of Policy and Insights, Economist Impact, said: "Measuring a country's ability to provide quality healthcare involves evaluating its policy but also its population's ability to use their healthcare services. That's why we are pleased to add these lived-experience indicators to Economist Impact's Health Inclusivity Index. The results of this phase of the Index show that high-income countries still have a lot of improvements to make if they are to effectively turn their policy into action."  
Under phase two of the Health Inclusivity Index, Australia achieves the highest score, followed by Sweden, UK, USA, France, Israel, Canada, South Korea, Germany, Switzerland and Thailand. The full findings of the Index can be found here: https://impact.economist.com/projects/health-inclusivity-index
Notes to Editors:
About Haleon and Health Inclusivity
Haleon's social impact goal is to empower millions of people a year to be more included in opportunities for better everyday health – with the company aiming to reach 50 million people a year by 2025. During 2022, we empowered more than 22.4 million people.
We have identified three key barriers to health inclusivity that Haleon is well placed to help address, which are:
• health literacy;
• healthcare accessibility; and
• bias & prejudice
Examples of Haleon's efforts to break down barriers to health inclusivity include:
Health Literacy: Our Caltrate calcium supplement brand in China has run several initiatives to raise awareness of the risks of osteoporosis and how to actively prevent and manage it. This includes working with Health Professionals to reach more consumers through online education, in-person outreach and bone density tests.
Healthcare Accessibility: To help make our brands more accessible, we have collaborated with Microsoft on expanding the functionality of their Seeing AI app for Haleon products. Seeing AI is a free mobile app that scans the information on product labels and reads it out loud. Consumers can scan the barcode on UK and US Haleon products and hear crucial information such as name, ingredients, and usage instructions.
Bias and Prejudice: The Advil Pain Equity Project is a long-term commitment to champion equitable and accessible pain relief in the United States, created by Advil and launched in partnership with Morehouse School of Medicine and BLKHLTH. The Advil Pain Equity Project's first campaign, Believe My Pain, is focused on illuminating the issue of pain inequity in Black communities.
About Haleon
Haleon (LSE / NYSE: HLN) is a global leader in consumer health, with a purpose to deliver better everyday health with humanity. Haleon's product portfolio spans five major categories – Oral Health, Pain Relief, Respiratory Health, Digestive Health and Other, and Vitamins, Minerals and Supplements (VMS). Its long-standing brands – such as Advil, Sensodyne, Panadol, Voltaren, Theraflu, Otrivin, Polident, parodontax and Centrum – are built on trusted science, innovation and deep human understanding.
For more information, please visit www.haleon.com
About Economist Impact
Economist Impact combines the rigour of a think-tank with the creativity of a media brand to engage a globally influential audience. We believe that evidence-based insights can open debate, broaden perspectives and catalyse progress. The services offered by Economist Impact previously existed within The Economist Group as separate entities, including EIU Thought Leadership, EIU Public Policy, Economist Events, El Studios and SignalNoise. Our track record spans 75 years across 205 countries. Along with creative storytelling, events expertise, designthinking solutions and market-leading media products, we produce framework design, benchmarking, economic and social impact analysis, forecasting and scenario modelling, Press Release making Economist Impact's offering unique in the marketplace. Visit www.economistimpact.com for more information
Economist Impact Health Inclusivity Index Methodology 
The Health Inclusivity index is based on more than 42000 respondents in 40 countries.  Economist Impact fielded a digital survey to 39,000 adults aged 18 and older in 39 of the 40 countries included in the Index between June and August 2023. 
Media Contacts: Haleon Media Contact:                   
Gemma Thomas                              
gemma.x.thomas@haleon.com     
+44 (0) 7721376006 Edelman Media Contact:
Charlotte Cheal
charlotte.cheal@edelman.com    
+44 (0) 7801 141626
A photo accompanying this announcement is available at https://www.globenewswire.com/NewsRoom/AttachmentNg/723b780a-602a-4324-a9d0-4349bfd32e05