Advertisement. Scroll to continue reading.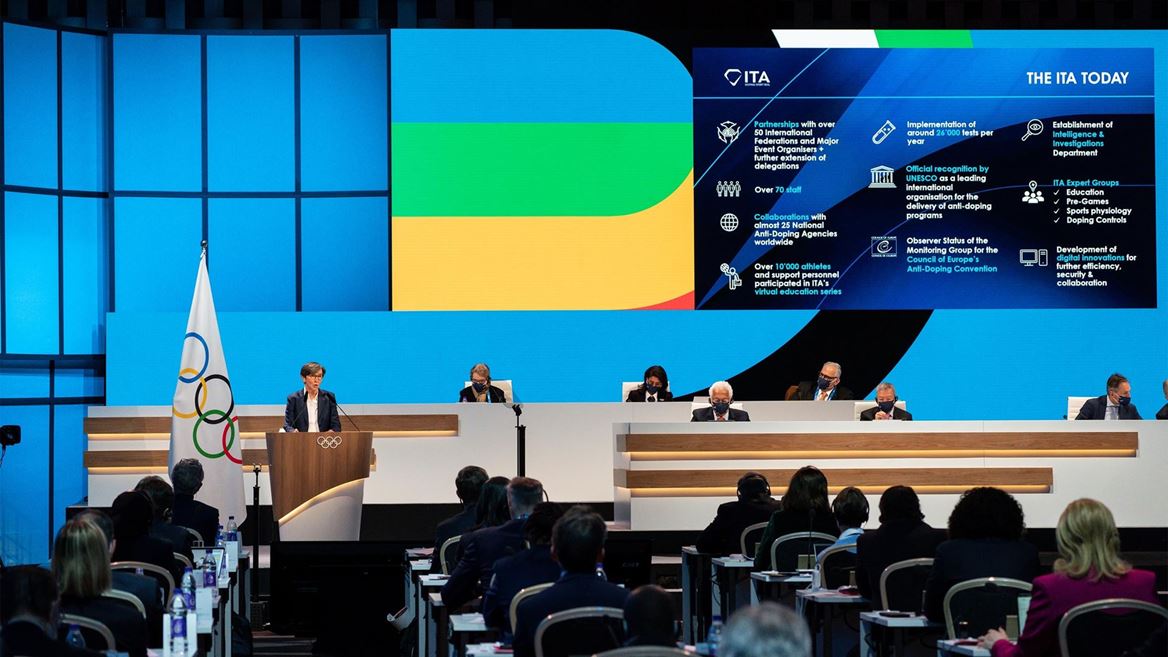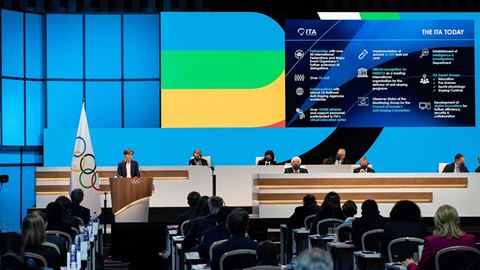 03 févr. 2022 – La 139e Session du Comité International Olympique (CIO) a reçu aujourd'hui les dernières informations sur la lutte contre le dopage, notamment des détails sur le programme de contrôle du dopage indépendant mis en place pour les Jeux Olympiques d'hiver de Beijing 2022.
À travers les rapports de l'Agence Mondiale Antidopage (AMA) et de l'Agence de contrôles internationale (ITA), la Session du CIO a pris connaissance des contrôles rigoureux qui ont été effectués avant les Jeux, afin de protéger les athlètes et l'intégrité des compétitions à Beijing 2022.
Vaste programme de dépistage préalable aux Jeux
S'adressant à la Session, la présidente du conseil de fondation de l'ITA, le Dr Valérie Fourneyron, a donné un dernier aperçu du programme de contrôles préalables aux Jeux, qui comprenait la formation d'un groupe d'experts chargé de procéder à une évaluation systématique des risques pour les athlètes de tous les sports susceptibles de participer aux Jeux.
Plus de 5 400 recommandations de contrôles à effectuer ont été formulées par le groupe d'experts, ce qui en fait le programme antidopage le plus complet jamais mis en œuvre avant les Jeux pour une édition des Jeux Olympiques d'hiver. Ces recommandations ont été transmises aux Fédérations Internationales (FI) et aux organisations nationales antidopage (ONAD), puis la série de contrôles a débuté en septembre 2021. Malgré les complications dues à la pandémie de COVID-19 en cours, 95 % des athlètes pour lesquels une recommandation a été émise, ont été contrôlés au moins une fois avant le début des Jeux.
"Cette mesure est venue compléter les efforts de lutte contre le dopage mis en place dans le monde entier", a expliqué le Dr Fourneyron. "L'ITA remercie toutes les organisations participantes pour leur coopération dans cet effort commun visant à contrôler rigoureusement avant les Jeux tous les athlètes qui pourraient y participer."
Programme antidopage complet pendant les Jeux
Pendant les Jeux, les composantes "contrôles" et "sanctions" du système antidopage seront indépendantes du CIO. Elles seront gérées respectivement par l'ITA et la chambre antidopage du Tribunal Arbitral du Sport (TAS).
L'ITA prévoit de collecter environ 2 900 échantillons d'urine et de sang en et hors compétition pendant les Jeux. Son programme antidopage complet et indépendant comporte des innovations introduites avec succès pour Tokyo 2020, telles que des contrôles fondés sur les données recueillies par l'analyse des résultats de la phase précédant les Jeux et une évaluation du risque multifactorielle, un système antidopage entièrement numérique, des applications numériques conçues sur mesure et des procédures pour une gestion des résultats indépendante.
"Toutes les activités de lutte contre le dopage ici en Chine seront planifiées et gérées de manière indépendante par l'ITA, laquelle s'appuiera sur le personnel et les ressources logistiques du comité d'organisation de Beijing et de l'agence antidopage chinoise CHINADA, ainsi que sur le soutien et le savoir-faire d'experts scientifiques internationaux en matière de contrôle de dopage, que nous remercions", a expliqué le Dr Fourneyron. "Le programme de contrôles hors compétition a déjà commencé avec l'ouverture du village olympique et se poursuivra parallèlement aux contrôles en compétition sous la supervision et la direction des 17 experts de l'ITA présents sur place. Le ciblage des athlètes à contrôler sera renforcé par l'échange d'informations et de renseignements."
Le programme antidopage de Beijing 2022 verra également la mise en œuvre d'une nouvelle méthode de dépistage. Il s'agira des premiers Jeux à utiliser systématiquement la technique du test à partir de gouttes de sang séché dans l'ensemble du programme de contrôles, après sa mise en œuvre partielle pour les Jeux Olympiques de Tokyo 2020.
"L'analyse de gouttes de sang séché est un formidable progrès pour la  lutte contre le dopage", a souligné le président de l'AMA, Witold Bańka. "Cette méthode présente plusieurs avantages par rapport aux modes de prélèvement traditionnels, pour lesquels elle  constituera un précieux  complément. Le prélèvement d'une seule goutte de sang par échantillon facilitera la tâche des agents de contrôle du dopage. Ce sera moins invasif pour les athlètes, plus facile à stocker et à transporter, avec d'éventuels avantages supplémentaires liés à la stabilité de l'échantillon prélevé."
L'AMA salue le programme antidopage de Tokyo 2020
Au cours de son intervention lors de la Session, M. Bańka a également présenté les conclusions du programme d'observateurs indépendants de l'AMA mené pendant les Jeux Olympiques de Tokyo 2020.
"Les conclusions de ce rapport montrent que le programme antidopage, tel que géré par l'Agence de contrôles internationale pour le compte du CIO, était robuste et complet, et conforme au Code mondial antidopage et aux Standards internationaux", a déclaré Witold Bańka. "Ce résultat a été obtenu dans le contexte des restrictions sévères imposées par la pandémie de COVID-19, notamment le report des Jeux d'un an. Je tiens à féliciter et à remercier toutes les personnes associées au déploiement réussi de ce programme antidopage pour leur engagement à protéger l'intégrité des Jeux."
L'AMA disposera également d'une équipe d'observateurs indépendants sur place à Beijing pour surveiller les activités antidopage menées pendant les Jeux. L'équipe travaillera en partenariat avec l'ITA et le comité d'organisation afin d'assurer la mise en œuvre d'un programme antidopage des plus efficace.
L'AMA a fait l'éloge du programme pré-olympique de conservation à long terme des échantillons, une initiative qui avait d'abord été lancée par l'ITA pour Tokyo 2020 grâce à un fonds spécial du CIO. Le président de l'AMA a de nouveau encouragé toutes les organisations antidopage à faire usage de cette offre gratuite qui a été renouvelée pour Beijing 2022.
Advertisement. Scroll to continue reading.
Advertisement. Scroll to continue reading.