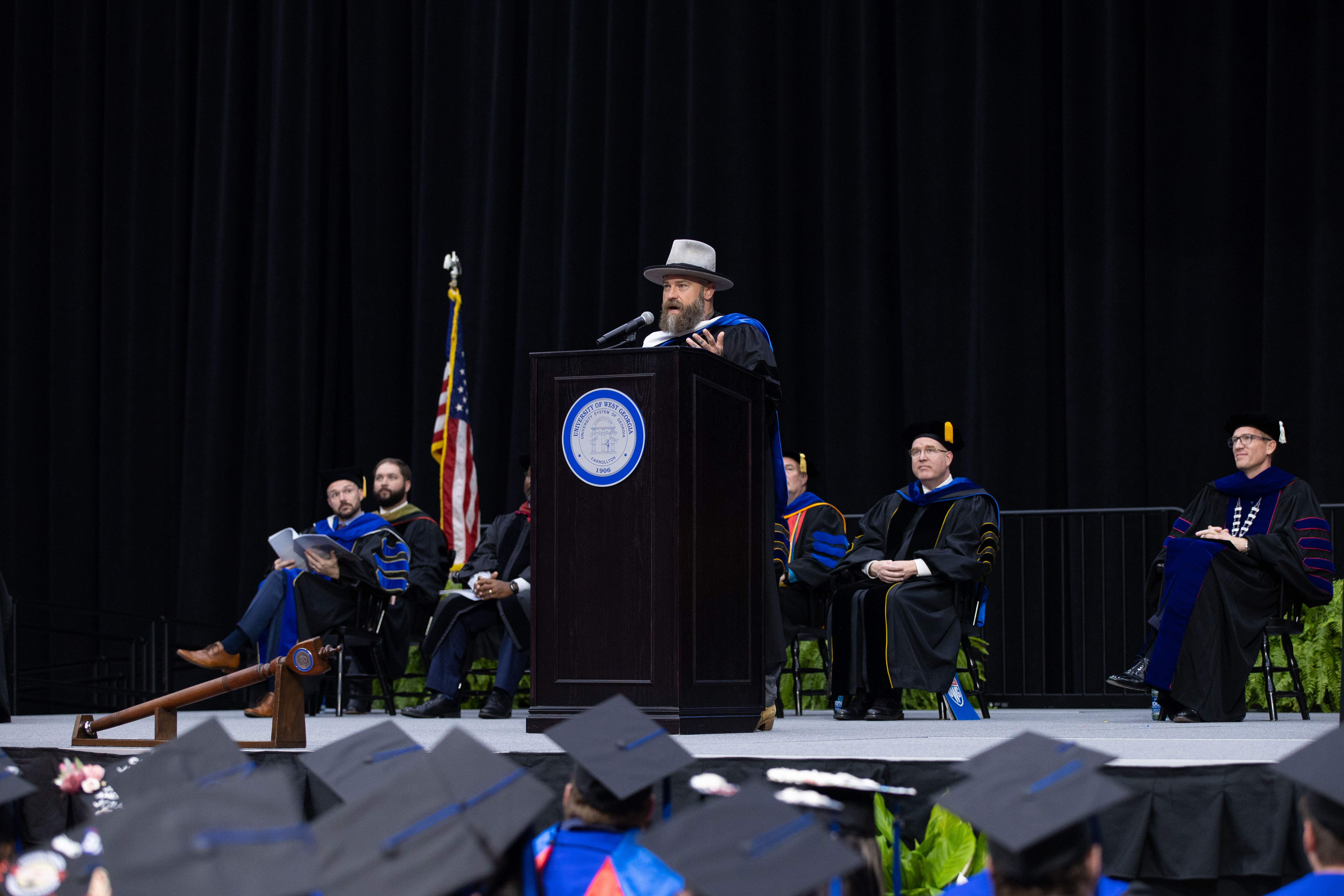 University of West Georgia Awards Honorary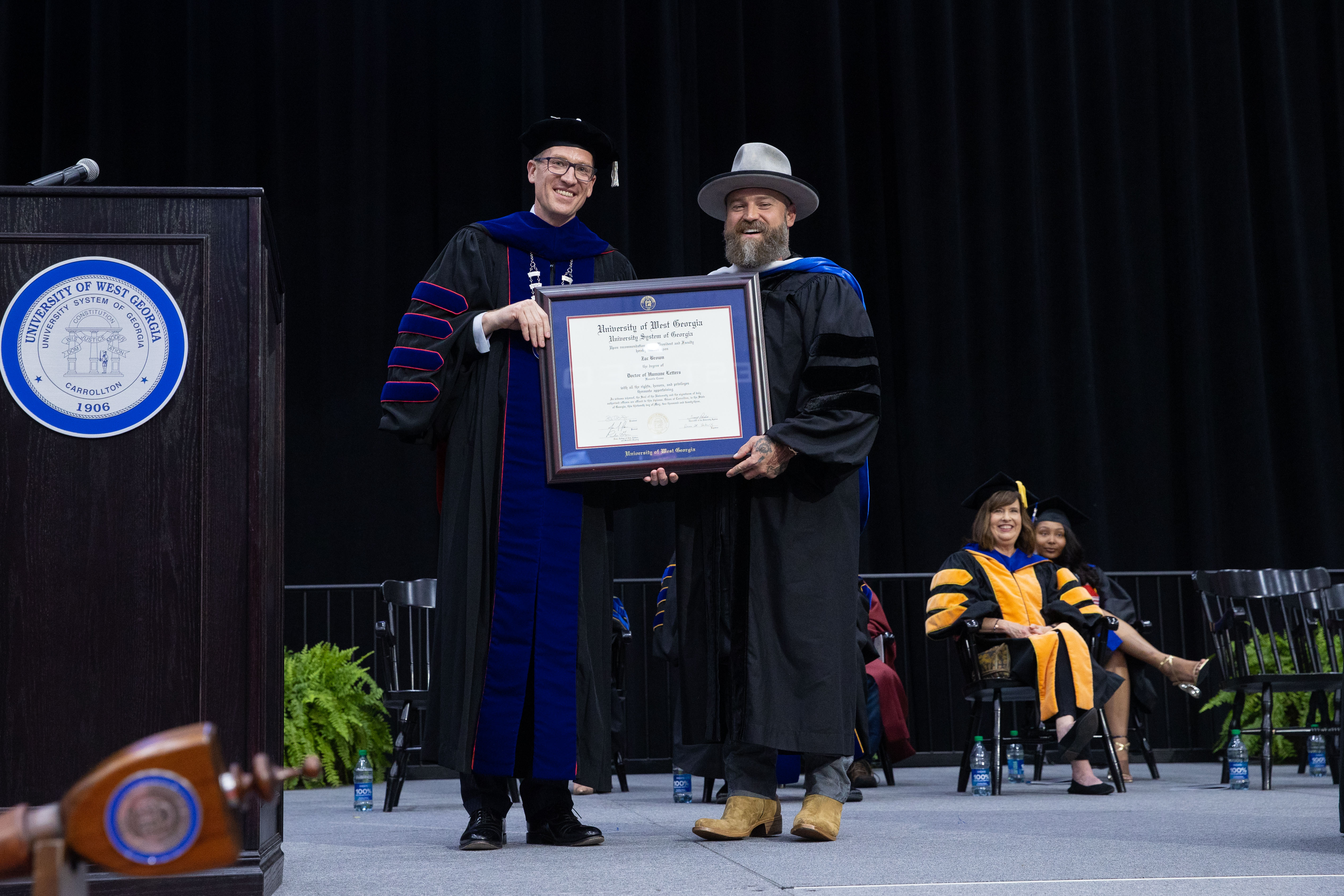 Carrollton, Georgia, May 13, 2023 (GLOBE NEWSWIRE) — The University of West Georgia awarded an honorary degree to Zac Brown – the internationally renowned musician, singer-songwriter, and founder and lead singer of Zac Brown Band – during its spring Commencement ceremonies, deepening Brown's connection to an institution that played a role in shaping his love for music.
Brown, who attended UWG in the late 1990s, accepted the honorary doctorate of humane letters in front of more than 4,700 graduates and their loved ones at the university's campus in Carrollton on Saturday, sharing with graduates – now his fellow alumni – several truths that he has learned during his career.
"I am so happy to be here celebrating your graduation with you today, and it is an honor to come back home – where it all started for me," the singer-songwriter said in his acceptance remarks. "Find something that you love to do and give it all you have because you win when you love what you do. Be yourself and see the world as you want it to be."
The degree recognizes Brown's contributions to the music industry, his commitment to philanthropy and his deep roots in Georgia and UWG. Multi-platinum and Grammy Award-winning, Zac Brown Band has released numerous chart-topping albums and singles – including "Chicken Fried," "Toes" and "Knee Deep" – with Brown becoming a household name.
"We are thrilled to call Zac – who has demonstrated his talents in a career as a musician, philanthropist and entrepreneur – one of our own at the University of West Georgia," said Dr. Brendan Kelly, UWG's president. "Awarding him this honorary doctorate instills a sense of pride in the institution for everyone in our university community. His commitment to giving back and supporting the next generation of leaders is an inspiration to us all, and we are grateful for his commitment to remain connected to his alma mater."
Brown's connection to his home state is evident in his upbringing in Dahlonega, his education at Lumpkin County High School and his time at what was then called West Georgia College, where he was a member of the Zeta Kappa chapter of the Kappa Alpha Order fraternity.
"I am deeply honored and humbled to receive an honorary degree from the University of West Georgia," Brown said. "As a former student, I have always valued my time at UWG and the impact it had on my life and career. To be recognized in this way is truly special, and I hope to continue to inspire future generations of students to pursue their passions with dedication and perseverance."
While attending Lumpkin County High School in Dahlonega, with James Taylor as his inspiration, Brown began playing solo shows in local venues, performing country and pop cover songs. During Brown's youth, he also served as a camp counselor at two summer camps and retreat centers, later founding Camp Southern Ground, a 501(c)(3) non-profit camp in Fayetteville.
Camp Southern Ground is a world-class facility dedicated to serving youth and veterans. During summer months, CSG hosts kids ages 7-17 for week-long, inclusive, residential camps, bringing together typically developing children, children with neurodevelopmental differences (Autism Spectrum Disorders, ADD, ADHD), underserved children, and children from military families to participate in programs that challenge, educate and inspire.
The rest of the year is dedicated to supporting post-9/11 veterans with three programs. Warrior Week, Camp Southern Ground's signature workforce and wellness transition program, helps veterans in the transition to civilian life after military service. Warrior PATHH (Progressive Alternative Training for Helping Heroes) aims to facilitate post-traumatic growth among combat veterans struggling with PTSD and/or combat stress. Veteran Family Camp aims to bring positive memories to families as they build the tools and resources to communicate better and thrive at home. Provided at no cost to veterans, CSG welcomes Warriors from across the country.
Founded in 2002, Zac Brown Band has released seven studio albums, along with two live albums, one greatest-hits album, and two extended plays. Sixteen of the band's singles have appeared on the Billboard Hot Country Songs or Country Airplay chart, with 13 reaching No. 1. The band's first album, "The Foundation," is certified 6X-platinum by the Recording Industry Association of America, while its follow-ups, "You Get What You Give" and "Uncaged," are certified 4X-platinum and platinum, respectively.
Since their debut, Zac Brown Band has developed a reputation with critics and fans alike as one of the most dynamic live performers, marked by strong musicianship that defies genre boundaries. The group has won three Grammy Awards, including Best New Artist in 2010, sold more than 30 million singles and 9 million albums, amassed more than 10 billion catalog streams, achieved 16 No. 1 radio singles and is the second act to top both the country and active rock formats.
"Zac's story is an incredible testament to the power of hard work, creativity and perseverance," Kelly said. "We are proud to have played a role in that story, and on behalf of the entire UWG community, I wish him continued success and look forward to seeing all the great things he will continue to achieve."
###
The University of West Georgia serves more than 11,900 students from across Georgia, 31 other states and 62 countries. Perennially ranked by U.S. News & World Report as a top national university, UWG offers 102 fields of study, including business, nursing, education, STEM, social sciences and the arts. It generates a regional economic impact of more than $626 million and provides a safe, quality and affordable college experience that transforms lives.
Zac Brown Band is a multi-platinum, GRAMMY Award-winning, Southern rock group led by frontman, Zac Brown. Throughout their career spanning more than a decade, Zac Brown Band has had six consecutive albums reach the top 10 of the Billboard 200 and five consecutive albums debut at #1 on Billboard's Country Albums chart. To date, the group has won three GRAMMY Awards, including Best New Artist in 2010, sold more than 30 million singles, 9 million albums, amassed over 10 billion catalog streams, achieved 16 #1 radio singles and are the second act to top both the Country and Active Rock formats. Zac Brown Band has headlined 9 North American Tours and currently holds the record for most consecutive sold-out shows at the iconic Fenway Park. Symbolic of their massive success at the ballpark, in July 2022, Zac Brown Band was inducted into the Fenway Music Hall of Fame, joining music icons Paul McCartney and Billy Joel. Since their debut, Zac Brown Band has developed a reputation with critics and fans alike as one of the most dynamic live performers, marked by strong musicianship that defies genre boundaries.
Zac Brown Accepts Honorary Degree from University of West Georgia
Zac Brown Receives Honorary Degree from University of West Georgia