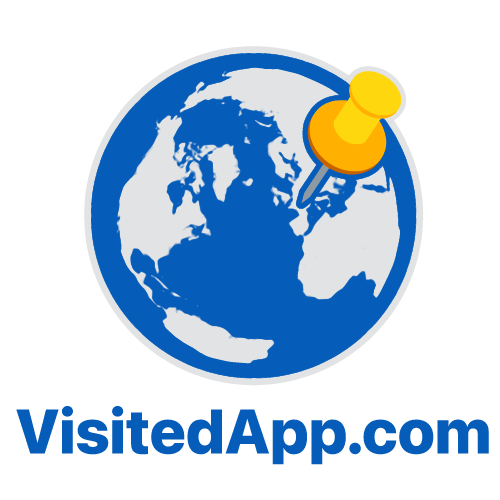 Visited App Releases Travel Report with United Kingdom
TORONTO, April 26, 2023 (GLOBE NEWSWIRE) — According to the Visited App, Australia is currently ranked as the most wished for destination to visit among international travellers. Australia is also currently ranked as the 30th most visited country among the travel tracker app. The Visited travel app has over 1.65 million users across the globe and offers a unique glance into popular destinations. All data is based on the user's self-reported information on where they've been, and launching shortly a section for travellers to mark where they would like to go with the trip-planner feature.
On average an international traveller has been to 15 countries, however Australians on average have been to 20 countries.
Visited App has recently published the Top 10 Most Visited Countries by Australians. Below is the list:
1)   United Kingdom
2)   France
3)   United States
4)   Italy
5)   Germany
6)   Thailand
7)   New Zealand
8)   Spain
9)   Indonesia
10)   Singapore
For more travel stats and the top 2022 travel trends, you can download the travel report. This report highlights how many countries travellers around the world visit, want to visit, and lists all the popular destinations for 2022.
About Visited App:
Visited App, is a travel app which allows users to map their travels based on where you've been to or wish to travel to. You can see personal stats, such as how many countries you have visited, what percentage of the world you wish to still see and more. The map feature also allows you to create your very own scratch map by country, region and city.
The travel list feature allows you to check off famous places by interest. Examples of travel lists include snorkeling spots, art museums, capitals of the world, scenic drives, beaches, and national parks, to name a few. You can also see the order of popularity, for example Sydney Opera house comes in 19th spot for most visited world wonder, while Bondi Beach in Sydney comes in the 7th spot as most visited beach in the world. Sydney Harbour Bridge is ranked 12th most visited bridge in the world. It's interesting to note that while the Great Barrier Reef is the world's largest reef it's only ranked as the 4th most visited in the world with Cancun, Bali and Cozumel coming ahead.
The new travel itinerary feature allows users to mark all places they wish to visit by interest or country; and to scroll through inspirational photos or select experiences they wish to have. You can see your results sorted by country so you can decide on your next destination based on its rank, of the number of places left you have to see.
To learn more about the Visited app and its latest feature update, please visit https://visitedapp.com. 
To download the app for free, you can find Visited on iOS and Android.
About Arriving In High Heels Corporation
Arriving In High Heels Corporation is a mobile app company; Visited is its most popular app. For inspiration on travel destinations, travel stats and the latest travel news, follow Visited's Travel Blog. 
Contact:
Anna Kayfitz
anna@arrivinginhighheels.com