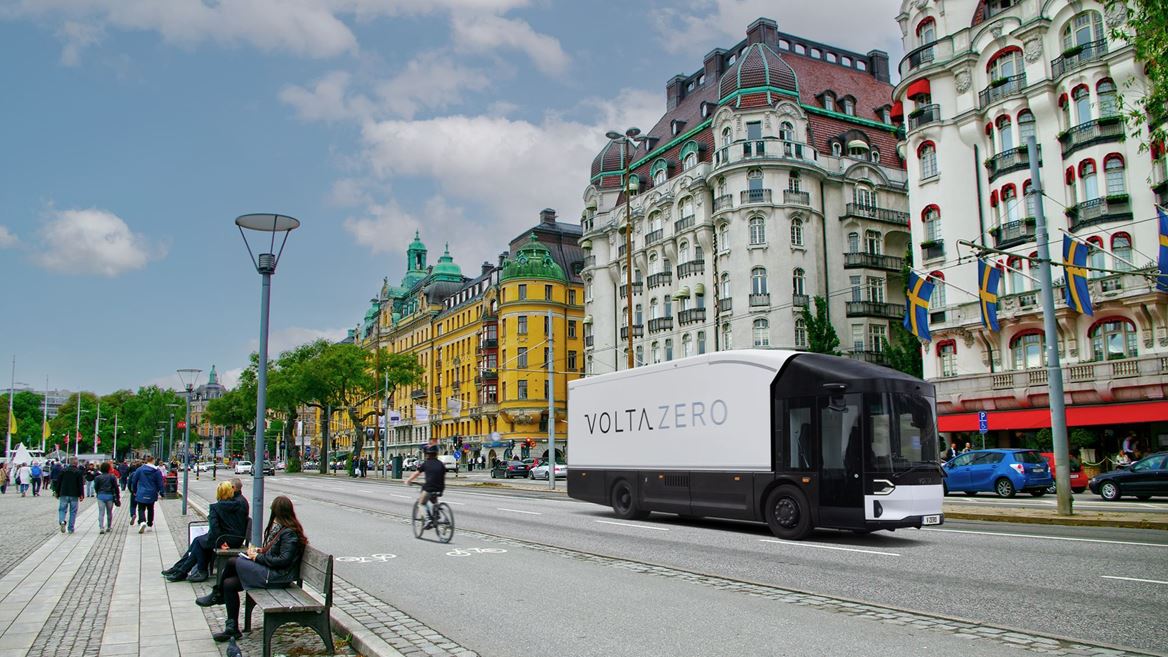 Volta Trucks accelerates its market launch in Sweden – trucks on the road in mid−2023

Volta Zero to hit the streets of Sweden in mid-2023.Medium Duty, all-electric 16 and 18-tonne Volta Zero perfect fit for Swedish city environments.Accelerated launch plans follow positive and growing customer interest.
Volta Trucks, the leading and disruptive all-electric commercial vehicle manufacturer and services provider, has confirmed its intention to accelerate its market launch for Sweden following overwhelmingly positive interest from customers.
The company will accelerate its launch plans and is set to have vehicles on the road in Sweden in mid-2023, ahead of the original market launch plan to introduce the vehicle later in 2024. This decision has been made due to increased demand and rapidly growing interest among customers operating in Scandinavia.
The 16 and 18-tonne version of the all-electric Volta Zero fits perfectly in the Scandinavian city transport sector, where Medium Duty trucks are the most common vehicles used for goods being transported into larger cities such as Stockholm, Gothenburg and Malmö.
The all-electric Volta Zero is designed with urban safety in mind, for both the driver as well as the people walking and cycling on the city streets around the vehicle. The driver of a Volta Zero sits in a central seating position in the cabin and in a much lower position compared with a conventional truck. This combination, plus a glass house-style cab design, gives the driver a wide 220-degree direct vision and combines with advanced camera technology to provide maximum visibility around the whole vehicle.
The sliding doors fitted on each side of the cabin, allow the driver to enter or exit on either side of the vehicle, and always onto the pavement. The low cabin allows the driver to simply step in and out of the vehicle, rather than climbing up and down from a traditional truck cab, which is known to create health and safety issues and impact on driver retention.
Carl-Magnus Norden, the Swedish Founder of Volta Trucks said, "Sweden has a long and proud heritage of producing high-quality commercial vehicles and at Volta Trucks, we have identified an interesting slice of the total transport market in the Medium Duty segment for urban deliveries. We care about cities, their people, and our planet. The Volta Zero has been designed from the ground up as an all-electric vehicle with zero tailpipe emissions, and has been purpose-built for urban transportation with safety and sustainability at the heart of what we do."
Chief Executive Officer of Volta Trucks, Essa Al-Saleh said, "We are currently in dialogue with several large Swedish transport providers and our objective is to ensure they can obtain vehicles from our customer experience fleet in mid-2023. These extended test drives will enable customers to fully evaluate the truck on the local roads and understand how this new all-electric Volta Zero, together with Volta Trucks' unique Truck as a Service (TaaS) offering, will fit into their current fleet and daily operations."
Notes to Editor
The Volta Zero is the world's first purpose-built all-electric 16 and 18-tonne vehicle designed for urban logistics, reducing the environmental impact of freight deliveries in city centres. The Volta Zero is designed from the ground up with an operating pure-electric range of 150 – 200 kms (95 – 125 miles).
Safety is also at the heart of Volta Trucks, with the ambition to produce the safest trucks for our cities. The Volta Zero was designed for electric from the outset, which facilitates a step-change in vehicle, driver and pedestrian safety. Thanks to the removal of the internal combustion engine, the operator of a Volta Zero sits in a central driving position, with a much lower seat height than a conventional truck. This combination, plus a glass house-style cab design, gives the driver a wide 220-degrees of visibility, minimising dangerous blind spots.
Volta Trucks is also innovating with its Truck as a Service proposition that has revolutionised the financing and servicing of commercial vehicle fleets. Truck as a Service offers fleet managers a frictionless and hassle-free way to electrify their fleet by offering an all-inclusive service for a single, affordable, monthly fee. It provides access to an all-electric Volta Zero, with its charging infrastructure needs provided by world-leader Siemens, insurance through Europe's premier InsurTech broker, Qover, and servicing, maintenance, and training requirements, maximising the uptime and operational efficiency of the vehicle.
About Volta Trucks
Volta Trucks was founded in 2019 in Sweden by co-founders Carl-Magnus Norden and Kjell Waloen. The company, focused primarily on operations across all major cities in Europe and the UK, is accelerating the transition to all-electric trucks, reducing the effects of climate change and helping make our cities safer, healthier and more sustainable for everyone. Volta Trucks has partnered with a number of global leaders in the supply chain for the development and production of the Volta Zero, at pace and scale. In total, Volta Trucks has raised over €360 million funding to date.
The company's contract manufacturing facility is in Steyr, Austria, where production of customer specification vehicles started in April 2023. The company has also established a network of 'Volta Trucks Hub' service and maintenance facilities in its launch markets, with the first four already announced in Bonneuil-sur-Marne, to the south of Paris, in Tottenham, London, Duisburg, to the west of the Rhine-Ruhr region in Germany, and in Madrid, Spain.