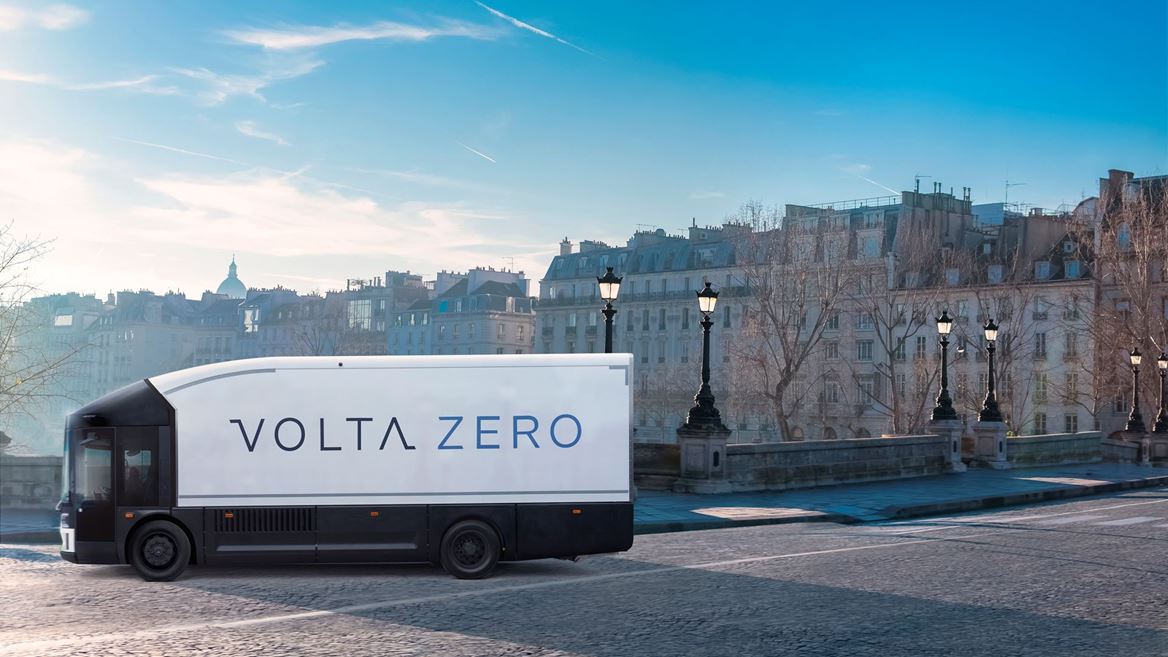 Volta Trucks and DLL partner to provide lease financing support for Truck as a Service offering

DLL to support Volta Trucks' Truck as a Service lease program.Funding provides Volta Trucks' customers with a wide range of financing solutions for the all-electric Volta Zero.
Volta Trucks, the leading and disruptive all-electric commercial vehicle manufacturer and services provider, has announced a partnership with global finance company DLL to provide finance support.
The funding will enable Volta Trucks to offer customers a wide range of financing solutions for the all-electric Volta Zero through the company's Truck as a Service (TaaS) offering.
DLL, a global equipment asset finance company, is focused on partnerships that enable businesses to access products more easily. By combining deep industry knowledge with customer focus, DLL aims to deliver sustainable solutions for the complete asset life cycle in an innovative and smart way. DLL will be offering Volta Trucks' customers Operating Lease and Finance Lease solutions that will be available in many of Volta Trucks' markets across Europe.
Chief Executive Officer of Volta Trucks, Essa Al-Saleh, said; "We are delighted to be partnering with DLL as one of our financing providers, to offer customers a tailored and flexible Truck as a Service financing option. This is a key enabler of their transition to an all-electric fleet. Combining our forward-thinking brand and innovative all-electric truck with DLL's expertise in financing, we will work together to support customers' needs and provide a lower Total Cost of Ownership, ensuring the move towards zero-emission transport is as seamless as possible."
"As DLL, our goal is to provide the financial solutions and expertise needed to remove any obstacles towards a more clean and sustainable future. Legislation requires the shift to a cleaner tomorrow, with reduced emission mobility playing an essential role," said Leo van den Dungen, Head of Transformational growth of DLL. "We are delighted to be partnering with Volta Trucks to accelerate the industry adoption."
Notes to Editor
The Volta Zero is the world's first purpose-built all-electric 16-tonne vehicle designed for urban logistics, reducing the environmental impact of freight deliveries in city centres. The Volta Zero is designed from the ground up with an operating pure-electric range of 150 – 200 kms (95 – 125 miles).
Safety is also at the heart of Volta Trucks, with the ambition to produce the safest trucks for our cities. The Volta Zero was designed for electric from the outset, which facilitates a step-change in vehicle, driver and pedestrian safety. Thanks to the removal of the internal combustion engine, the operator of a Volta Zero sits in a central driving position, with a much lower seat height than a conventional truck. This combination, plus a glass house-style cab design, gives the driver a wide 220-degrees of visibility, minimising dangerous blind spots.
Volta Trucks is also innovating with its Truck as a Service proposition that has revolutionised the financing and servicing of commercial vehicle fleets. Truck as a Service offers fleet managers a frictionless and hassle-free way to electrify their fleet by offering an all-inclusive service for a single, affordable, monthly fee. It provides access to an all-electric Volta Zero, with its charging infrastructure needs provided by world-leader Siemens, insurance through Europe's premier insurtech broker, Qover, and servicing, maintenance, and training requirements, maximising the uptime and operational efficiency of the vehicle.
About Volta Trucks
Volta Trucks was founded in 2019 in Sweden by co-founders Carl-Magnus Norden and Kjell Waloen. The company, focused primarily on operations across all major cities in Europe and the UK, is accelerating the transition to all-electric trucks, reducing the effects of climate change and helping make our cities safer, healthier and more sustainable for everyone. Volta Trucks has partnered with a number of global leaders in the supply chain for the development and production of the Volta Zero, at pace and scale. In total, Volta Trucks has raised over €360 million funding to date.
The company's partner in contract manufacturing is in Steyr, Austria, where production of customer specification vehicles started in April 2023. The company has also established a network of 'Volta Trucks Hub' service and maintenance facilities in its launch markets, with the first four already announced in Bonneuil-sur-Marne, to the south of Paris, in Tottenham, London, Duisburg, to the west of the Rhine-Ruhr region in Germany, and in Madrid, Spain.
About DLL
DLL is a global asset finance company for equipment and technology with a managed portfolio of more than EUR 35 billion. Founded in 1969 and headquartered in Eindhoven, the Netherlands, DLL provides financial solutions to the Agriculture, Food, Healthcare, Clean Technology, Construction, Transportation, Industrial, Office Equipment and Technology industries in more than 25 countries. DLL partners with equipment manufacturers, dealers and distributors, as well as end-customers on a direct basis, to enable businesses to more easily access equipment, technology and software.
The company also delivers insights and advice to partners and customers that drive smarter and more economical methods of use.DLL combines customer focus with deep industry knowledge to deliver sustainable solutions for the complete asset life cycle, including commercial finance, retail finance and used equipment finance. DLL is a wholly owned subsidiary of Rabobank Group. To learn more about DLL, visit www.dllgroup.com.