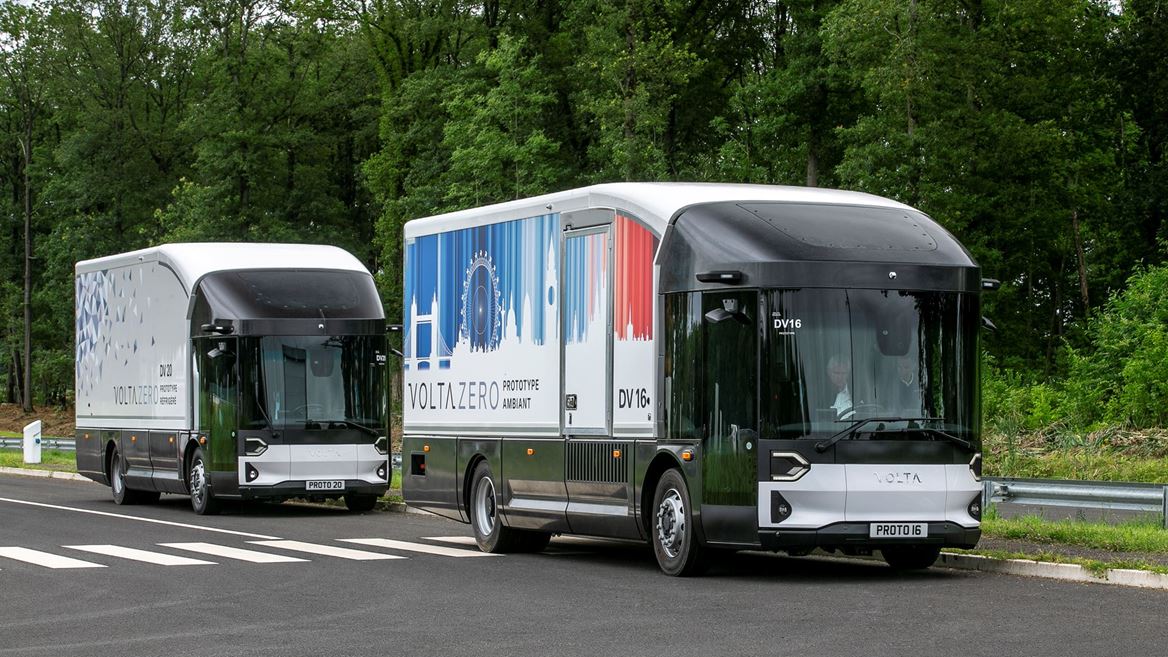 Volta Trucks announces first production orders of over 300 vehicles and more than €85 million of associated revenue
Volta Trucks secures more than €85 million of anticipated revenue from confirmed orders of full-electric Volta Zeros for 2023 delivery.

Strong demand for 2023 manufacturing slots from leading customers.

Series production of full-electric Volta Zero to commence in coming months.
Volta Trucks, the leading and disruptive full-electric commercial vehicle manufacturer and services provider, has announced a strong start to 2023 by confirming customer production orders for the first 300 manufacturing slots of its full-electric Volta Zero, with an associated revenue of more than €85 million.
Series production Volta Zeros are due to start rolling off the line of the company's contract manufacturing facility in Steyr, Austria, in early Q2 2023, with the plant ready to meet the strong customer demand for its purpose-built full-electric medium duty urban delivery truck.
"Volta Trucks has made important progress in the first few weeks of 2023, confirming more than 300 customer truck orders for the first vehicles off our production line in Austria. This covers a meaningful portion of our 2023 production targets, before customers have pilot tested the vehicles. This is a major achievement and demonstrates the compelling features of the Volta Zero and the trust that our customers have in our ability to deliver," said Essa Al-Saleh, Chief Executive Officer of Volta Trucks.
"Volta Trucks is poised for a successful first year of sales and production. We are confident and focused on delivering on our strategic ambitions and purpose to decarbonise and improve the safety of city-centres," he concluded.
Notes to Editor
Volta Trucks will communicate customer specific details later.
Volta Trucks has previously communicated pre-orders of 6,500 trucks. Please note those pre-orders are in relation to all markets and all models, including those in future years. The firm orders referenced in this press release are solely for the full-electric 16-tonne Volta Zero for 2023 production and delivery to customers.
About the Volta Zero
The Volta Zero is the world's first purpose-built full-electric 16-tonne vehicle designed for urban logistics, reducing the environmental impact of freight deliveries in city centres. Designed from the ground up with an operating pure-electric range of 150 – 200 kms (95 – 125 miles), the Volta Zero will eliminate an estimated 1.9M tonnes of CO2 by 2026.
Safety is also at the heart of Volta Trucks, with the ambition to produce the safest trucks for our cities. The Volta Zero was designed for electric from the outset, which facilitates a step-change in vehicle, driver and pedestrian safety. Thanks to the removal of the internal combustion engine, the operator of a Volta Zero sits in a central driving position, with a much lower seat height than a conventional truck. This combination, plus a glass house-style cab design, gives the driver a wide 220-degrees of visibility, minimising dangerous blind spots.
Volta Trucks is also innovating with its Truck as a Service proposition that is revolutionising the financing and servicing of commercial vehicle fleets. Truck as a Service offers fleet managers a frictionless and hassle-free way to electrify their fleet and helps them with every step by offering a single, affordable, monthly fee that provides access to a full-electric Volta Zero, and all its charging infrastructure, servicing, maintenance, insurance, and training requirements, maximising uptime and operational efficiency.
About Volta Trucks
Volta Trucks was founded in 2019 in Sweden by co-founders Carl-Magnus Norden and Kjell Waloen. The company, focused primarily on operations across all major cities in Europe and the UK, aims to accelerate the transition to fully electric trucks, reducing the effects of climate change and helping make our cities safer, healthier and more sustainable for everyone. Volta Trucks is partnering with a number of global leaders in the supply chain for the development and production of the Volta Zero, at pace and scale. In total, Volta Trucks has raised over €360 million funding to date.
The company's contract manufacturing facility is in Steyr, Austria, where production of customer specification vehicles is starting in early Q2 2023. The company has also established a network of 'Volta Trucks Hub' service and maintenance facilities in its launch markets, with the first two already announced in Bonneuil-sur-Marne, to the south of Paris, and in Tottenham, London.