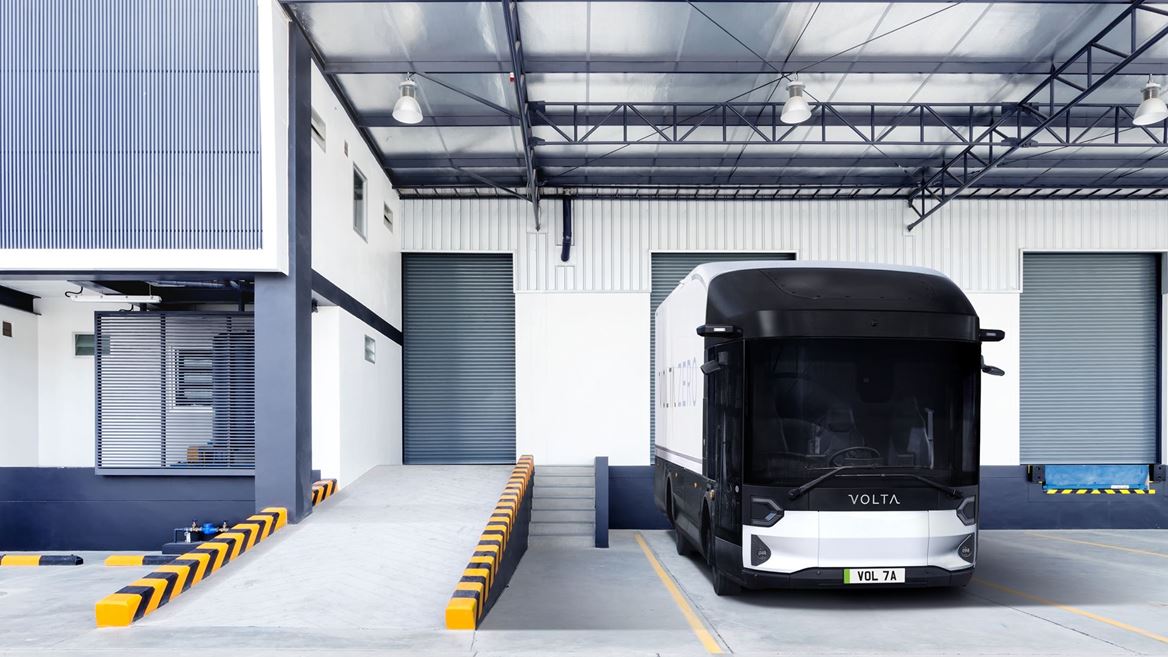 Volta Trucks Appoints TOP TRUCK as Certified Service Partner for France, Spain, and Italy

Volta Trucks announces Certified Service Partner for France, Spain and ItalyCertified Service Partners to complement Volta Trucks' own Hubs to provide comprehensive geographic Service and Maintenance coverage More Certified Service Partners to be announced across Europe shortly
Volta Trucks, the leading and disruptive all-electric commercial vehicle manufacturer and services provider, has announced the appointment of TOP TRUCK as its first Certified Service Partner, covering France, Spain, and Italy.
TOP TRUCK has been selected as the Certified Service Partner for its expertise and knowledge of servicing and maintaining complex commercial vehicles, along with its ability to carry out legal inspections, tachograph calibration, tail lift inspections and repairs.
A comprehensive network of Certified Service Partners across each country, supported by the Volta Trucks Hubs, ensures the best possible coverage for Volta Trucks' customers, and enables the brand to expand operations quickly and efficiently across more areas of its launch markets. TOP TRUCK Technicians will undergo extensive and ongoing training on Volta Trucks vehicles and technology, provided by the Volta Trucks Academy at the central Hubs, located in Paris, and Madrid.
TOP TRUCK will complement the Volta Trucks Hub locations and will play a major role in the Volta Trucks' Truck as a Service (TaaS) offering. Designed as a frictionless way to migrate fleets of all sizes to electric, maximising their uptime and operational efficiency, the TaaS proposition revolutionises the ownership, servicing, financing, and management of commercial vehicle fleets.
Casper Norden, Chief Fleet Solutions Officer at Volta Trucks said; "We are delighted to announce TOP TRUCK as our first Certified Service Partner for France, Spain and Italy. Certified Service Partners are an integral part of our strategy for vehicle care, further supporting operations in cities and urban environments outside the vicinity of our Truck as a Service Hub locations. Servicing and maintenance is a cornerstone of the TaaS proposition, so with our Hub locations and Certified Service Partners working together, we're providing customers with a comprehensive solution and ongoing confidence in the uptime of their Volta Zero."
Robert Stevens, Director of Workshop Networks & Technology at GROUPAUTO International said: "GROUPAUTO's priority is to prepare our networks for the future. Providing support for these remarkable vehicles from Volta Trucks will allow our TOP TRUCK Network to take a step toward the future of commercial vehicle services. Vehicle operators need options as they adapt to market changes, and our international TOP TRUCK Network is ready to provide support."
Notes to Editor
The Volta Zero is the world's first purpose-built all-electric 16-tonne vehicle designed for urban logistics, reducing the environmental impact of freight deliveries in city centres. The Volta Zero is designed from the ground up with an operating pure-electric range of 150 – 200 kms (95 – 125 miles). 
Safety is also at the heart of Volta Trucks, with the ambition to produce the safest trucks for our cities. The Volta Zero was designed for electric from the outset, which facilitates a step-change in vehicle, driver and pedestrian safety. Thanks to the removal of the internal combustion engine, the operator of a Volta Zero sits in a central driving position, with a much lower seat height than a conventional truck. This combination, plus a glass house-style cab design, gives the driver a wide 220-degrees of visibility, minimising dangerous blind spots.
Volta Trucks is also innovating with its Truck as a Service proposition that has revolutionised the financing and servicing of commercial vehicle fleets. Truck as a Service offers fleet managers a frictionless and hassle-free way to electrify their fleet by offering an all-inclusive service for a single, affordable, monthly fee. It provides access to an all-electric Volta Zero, with its charging infrastructure needs provided by world-leader Siemens, insurance through Europe's premier insurtech broker, Qover, and servicing, maintenance, and training requirements, maximising the uptime and operational efficiency of the vehicle.
About Volta Trucks
Volta Trucks was founded in 2019 in Sweden by co-founders Carl-Magnus Norden and Kjell Waloen. The company, focused primarily on operations across all major cities in Europe and the UK, is accelerating the transition to all-electric trucks, reducing the effects of climate change and helping make our cities safer, healthier and more sustainable for everyone. Volta Trucks has partnered with a number of global leaders in the supply chain for the development and production of the Volta Zero, at pace and scale. In total, Volta Trucks has raised over €360 million funding to date.
The company's contract manufacturing facility is in Steyr, Austria, where production of customer specification vehicles is starting in early Q2 2023. The company has also established a network of 'Volta Trucks Hub' service and maintenance facilities in its launch markets, with the first four already announced in Bonneuil-sur-Marne, to the south of Paris, in Tottenham, London, Duisburg, to the west of the Rhine-Ruhr region in Germany, and in Madrid, Spain.