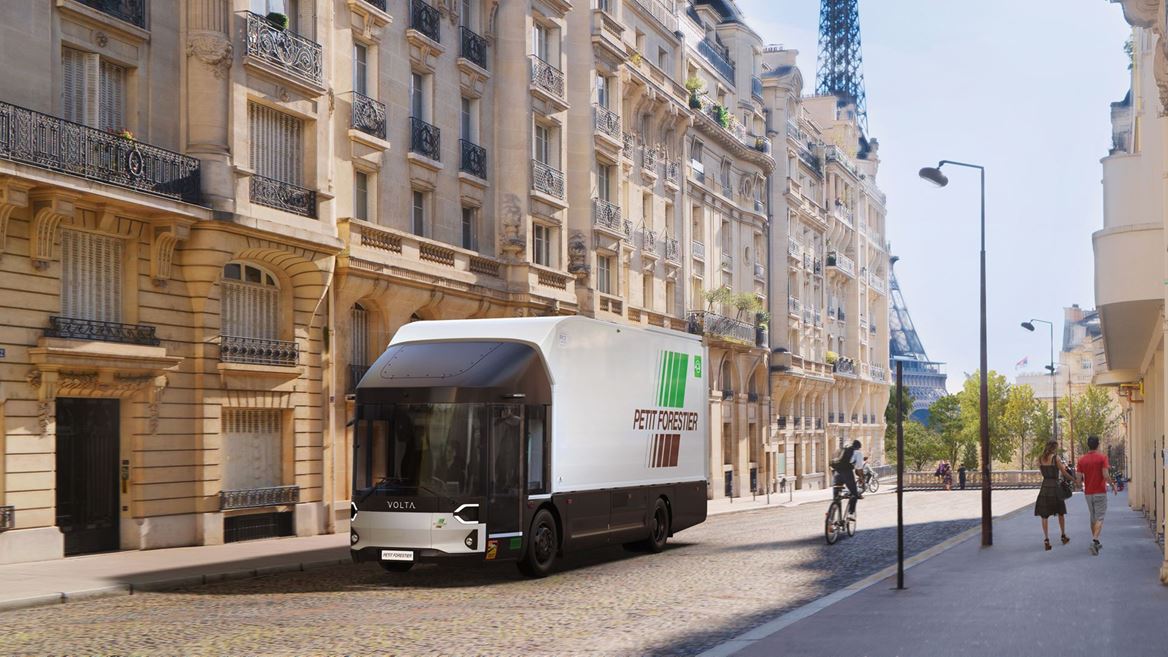 Volta Trucks Chooses Petit Forestier for Refrigerated Customer Rental Solutions

Petit Forestier becomes rental and leasing provider for refrigerated Volta Zero variants.Agreement covers a selection of launch markets across Europe and the UK.All-electric refrigerated rental vehicle is an important part of Volta Trucks' urban strategy.
Volta Trucks, the leading and disruptive all-electric commercial vehicle manufacturer and services provider, has announced a further partnership with Petit Forestier as an extension to its previously announced purchase and supply agreement, providing refrigerated rental and leasing truck solutions across Europe and the UK.
The new agreement will see Petit Forestier become the rental and leasing partner for the refrigerated version of the all-electric 16-tonne and 18-tonne Volta Zero across a selection of Volta Trucks' European markets including France, Spain, Italy, Netherlands and the UK.
Customers will benefit from Volta Trucks' expertise in electric trucks and charging infrastructure, combined with Petit Forestier's expertise in refrigerated full-service solutions, helping to further simplify the transition to an electric fleet.
Petit Forestier was founded in 1907 and is the only European hire company on the rental market with exclusive expertise and knowledge in the field of refrigeration. Petit Forestier benefits from Europe's largest refrigerated rental fleet of over 70,000 vehicles and currently covers 20 countries in Europe, Africa, the Middle East and the United States. This enables them to provide over 15,000 customers with temperature-controlled logistics and transport, from product manufacture to the end consumer.  
Chief Executive Officer of Volta Trucks, Essa Al-Saleh said; "The Volta Zero has been specifically designed to provide zero-tailpipe emission urban logistics in a city environment, and temperature-controlled transport of goods are a vital part of that strategy, for us and our customers. Our partnership and rental agreement with Petit Forestier further demonstrates our commitment to providing our customers with a simple, easy-to-manage and de-risked transition to an all-electric transport solution, helping to make our city centres safer and more sustainable for everyone."
Léonard Forestier, President of Petit Forestier Group, said: "Petit Forestier is a family business that has always been able to anticipate the challenges of each era, since its creation in 1907. The future of refrigerated transport will be greener and simpler! Committed to moving towards the energy transition, Petit Forestier is constantly developing its range of alternative energy refrigerated vehicles. We are working hand in hand with our partners, to provide to our customers, innovative solutions that meet environmental challenges. We are proud to partner up with Volta Trucks to propose the refrigerated Volta Zero, the result of a partnership built on innovation and sustainable development".
Editor's notes
The new agreement will see Petit Forestier become the rental partner for the refrigerated version of the all-electric 16-tonne and 18-tonne Volta Zero in France, United Kingdom, Republic of Ireland, Spain, Italy, Belgium, the Netherlands, Luxembourg and Poland.
About the Volta Zero
The Volta Zero is the world's first purpose-built all-electric 16-tonne vehicle designed for urban logistics, reducing the environmental impact of freight deliveries in city centres. The Volta Zero is designed from the ground up with an operating pure-electric range of 150 – 200 kms (95 – 125 miles). 
Safety is also at the heart of Volta Trucks, with the ambition to produce the safest trucks for our cities. The Volta Zero was designed for electric from the outset, which facilitates a step-change in vehicle, driver and pedestrian safety. Thanks to the removal of the internal combustion engine, the operator of a Volta Zero sits in a central driving position, with a much lower seat height than a conventional truck. This combination, plus a glass house-style cab design, gives the driver a wide 220-degrees of visibility, minimising dangerous blind spots.
About Volta Trucks
Volta Trucks was founded in 2019 in Sweden by co-founders Carl-Magnus Norden and Kjell Waloen. The company, focused primarily on operations across all major cities in Europe and the UK, is accelerating the transition to all-electric trucks, reducing the effects of climate change and helping make our cities safer, healthier and more sustainable for everyone. Volta Trucks has partnered with a number of global leaders in the supply chain for the development and production of the Volta Zero, at pace and scale. In total, Volta Trucks has raised over €360 million funding to date.
The company's partner in contract manufacturing is in Steyr, Austria, where production of customer specification vehicles started in April 2023. The company has also established a network of 'Volta Trucks Hub' service and maintenance facilities in its launch markets, with the first four already announced in Bonneuil-sur-Marne, to the south of Paris, in Tottenham, London, Duisburg, to the west of the Rhine-Ruhr region in Germany, and in Madrid, Spain.
About Petit Forestier Group
A family business that has put its expertise of refrigerated rental vehicles at the service of its 15 000 professional and private customers since 1907, Petit Forestier offers a multi-product refrigerated rental offer – vehicles, containers, furniture – meeting the logistical needs for storage and transport on all of the links in the cold chain.
Combining the excellence of its centuries-old expertise, its technical innovations, its full-service provided by its 5100 employees, with the power of its vast rental fleet (+ 72 000 refrigerated vehicles, + 49 000 refrigerated units, + 5300 refrigerated containers) and its international network (more than 300 agencies on 4 continents and in 20 countries), Petit Forestier supports its customers in all product life cycles, from their manufacture to the end consumer.