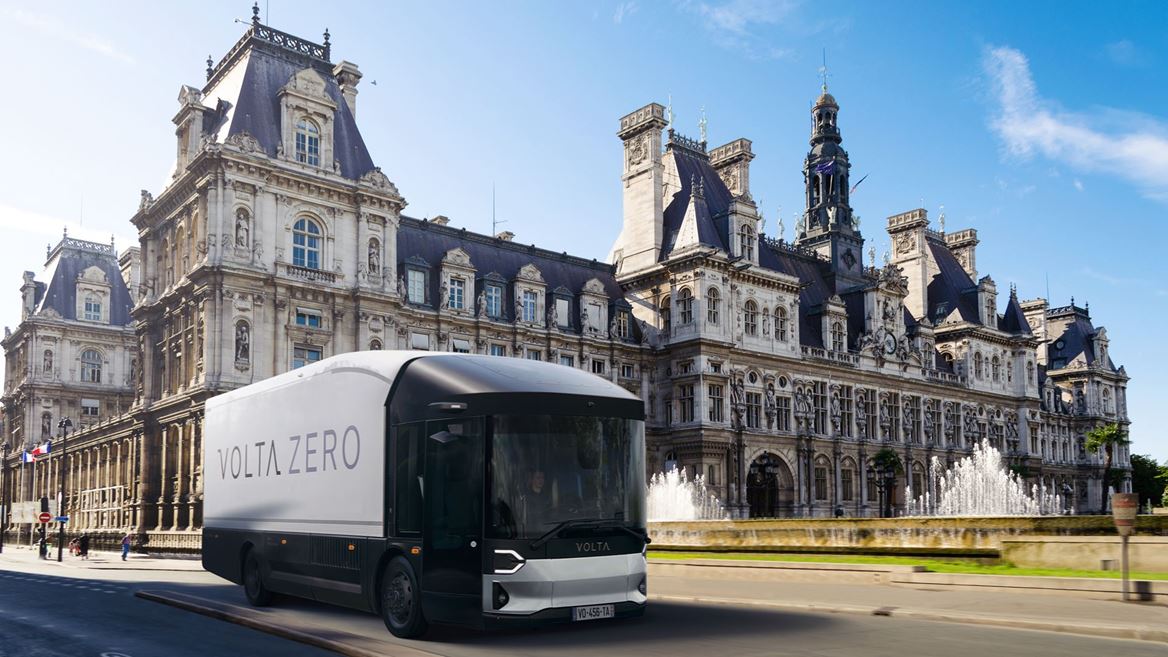 Volta Trucks Partners with Qover and Helvetia International Automotive for Truck As a Service Insurance

Volta Trucks appoints Qover as global embedded insurance orchestrator for the all-electric fleet insurance programme.Helvetia International Automotive Business will be the insurer of the programme.Exclusive insurance cover forms key component of the Truck as a Service proposition from Volta Trucks.
Volta Trucks, the leading and disruptive all-electric commercial vehicle manufacturer and services provider, has confirmed a partnership with Qover and Helvetia International Automotive to provide their customers with all-electric fleet insurance.
The specialised insurance cover for Volta Trucks' customers will be managed by Qover, Europe's leading insurtech for orchestrating embedded insurance, and insured by Helvetia International Automotive, a division of the S&P A+ rated Swiss insurance company with over 160 years of insurance experience.
Volta Trucks' customers will be offered tailored motor insurance, through Qover and Helvetia, with bespoke, adjustable cover levels based on each fleet-use case. This is delivered by a simple and seamless end-user experience, supported by digital tools, from quote to subscription and claim, with any repair work undertaken by Volta Trucks' own high-quality repair experts within the manufacturer's network.
The partnership between Volta Trucks and Qover will be available to all customers in Volta Trucks' launch markets across the EU and in the UK. Helvetia insurance products will be available to customers in the initial European countries: in France, Spain, Germany and Netherlands. Other countries across Europe and Scandinavia will follow in due course.
The provision of insurance is a key component of Volta Trucks' Truck as a Service offer. It de-risks and accelerates the adoption of electric commercial vehicles for Fleet Operators by delivering a frictionless and hassle-free way to electrify their fleets. Truck as a Service supports every step of the electrification migration by offering affordable access to an all-electric Volta Zero vehicle, and all its servicing, maintenance, insurance and training requirements, maximising the uptime and operational efficiency of the vehicle.
Commenting on the partnership, Chief Fleet Solutions Officer of Volta Trucks, Casper Norden, said; "The partnership between Volta Trucks, Qover and Helvetia breaks new ground for the commercial vehicle industry as an important part of our Truck as a Service offer. Through our close customer engagement, we know that traditional insurers sometimes don't understand the differences and opportunities of an all-electric truck versus the legacy internal combustion-engine vehicle they're used to insuring. The partnership with Qover and Helvetia resolves this issue and is yet another example of how Volta Trucks is supporting our customers on their accelerated journey to sustainable and zero-tailpipe emission operations."
"From an insurance standpoint, Volta Trucks' emphasis on safety in their product design is particularly interesting. Through this partnership, we see the potential to develop enhanced insurance programmes that leverage telematics data from Volta Trucks' vehicles to further enhance the safety of their customers and other road users. While Volta Trucks and Qover operate as orchestrators in their respective industries, our shared values enable us to form a strong pan-European partnership," said Quentin Colmant, CEO and Co-founder of Qover.
Tilo Schroiff, Head of Helvetia International Automotive, said: "The partnership of Helvetia International Automotive and Volta Trucks is a perfect symbiosis and the answer to the ongoing and dynamic disruption in the automotive industry and society. We are innovative, electric, 100% digital and support the journey towards sustainable better mobility."
Editor's notes
About the Volta Zero
The Volta Zero is the world's first purpose-built all-electric 16-tonne vehicle designed for urban logistics, reducing the environmental impact of freight deliveries in city centres. The Volta Zero is designed from the ground up with an operating pure-electric range of 150 – 200 kms (95 – 125 miles).
Safety is also at the heart of Volta Trucks, with the ambition to produce the safest trucks for our cities. The Volta Zero was designed for electric from the outset, which facilitates a step-change in vehicle, driver and pedestrian safety. Thanks to the removal of the internal combustion engine, the operator of a Volta Zero sits in a central driving position, with a much lower seat height than a conventional truck. This combination, plus a glass house-style cab design, gives the driver a wide 220-degrees of visibility, minimising dangerous blind spots.
Volta Trucks is also innovating with its Truck as a Service proposition that has revolutionised the financing and servicing of commercial vehicle fleets. Truck as a Service offers fleet managers a frictionless and hassle-free way to electrify their fleet by offering an all-inclusive service for a single, affordable, monthly fee. It provides access to an all-electric Volta Zero, with its charging infrastructure needs provided by world-leader Siemens, insurance through Europe's premier insurtech broker, Qover, and servicing, maintenance, and training requirements, maximising the uptime and operational efficiency of the vehicle.
About Volta Trucks
Volta Trucks was founded in 2019 in Sweden by co-founders Carl-Magnus Norden and Kjell Waloen. The company, focused primarily on operations across all major cities in Europe and the UK, is accelerating the transition to all-electric trucks, reducing the effects of climate change and helping make our cities safer, healthier and more sustainable for everyone. Volta Trucks has partnered with a number of global leaders in the supply chain for the development and production of the Volta Zero, at pace and scale. In total, Volta Trucks has raised over €360 million funding to date.
The company's contract manufacturing facility is in Steyr, Austria, where production of customer specification vehicles is starting in early Q2 2023. The company has also established a network of 'Volta Trucks Hub' service and maintenance facilities in its launch markets, with the first four already announced in Bonneuil-sur-Marne, to the south of Paris, in Tottenham, London, Duisberg, to the west of the Rhine-Ruhr region in Germany, and in Madrid, Spain.
About Qover
Qover is an InsurTech that adds completely tailored cover to a company's digital experience, increasing its opportunities to grow and decreasing the cost of insurance as the business scales.
Qover's Pan-European embedded insurance orchestration platform provides seamless digital insurance experiences to over 2.5 million users across 32 different countries, and works with longstanding partners like Revolut, Monese, Rewire and many others.
About Helvetia Group
Helvetia Group, with its headquarters in St. Gallen (Switzerland), has grown since 1858 to become a successful insurance group with over 12,000 employees and more than 7 million customers. It has been enabling its customers to seize opportunities and minimise risks for all that time – Helvetia is there for them when it matters. Helvetia is the best partner and is present everywhere that protection needs arise, with insurance, pension and investment solutions from a single source as well as simple products and processes. The insurance group knows the business, from mobile phone insurance and insurance cover for the Gotthard Base Tunnel to the long-term investment of customer assets. Helvetia develops and opens up new business models with enthusiasm and drives forward its own business in a powerful and future-oriented manner. It acts with foresight and responsibility in everything it does: for the benefit of its shareholders, customers and employees as well as its partners, society and the environment.
Helvetia is the leading all-lines insurer in Switzerland. In the Europe segment comprising Germany, Italy, Austria and Spain, the company has firmly rooted market positions for generating above-average growth. In the Specialty Markets segment, Helvetia offers tailored special insurance and reinsurance cover worldwide. With a business volume of CHF 11.1 billion, Helvetia generated IFRS net income after tax of CHF 614.4 million in the 2022 financial year. The shares of Helvetia Holding AG are traded on SIX Swiss Exchange.