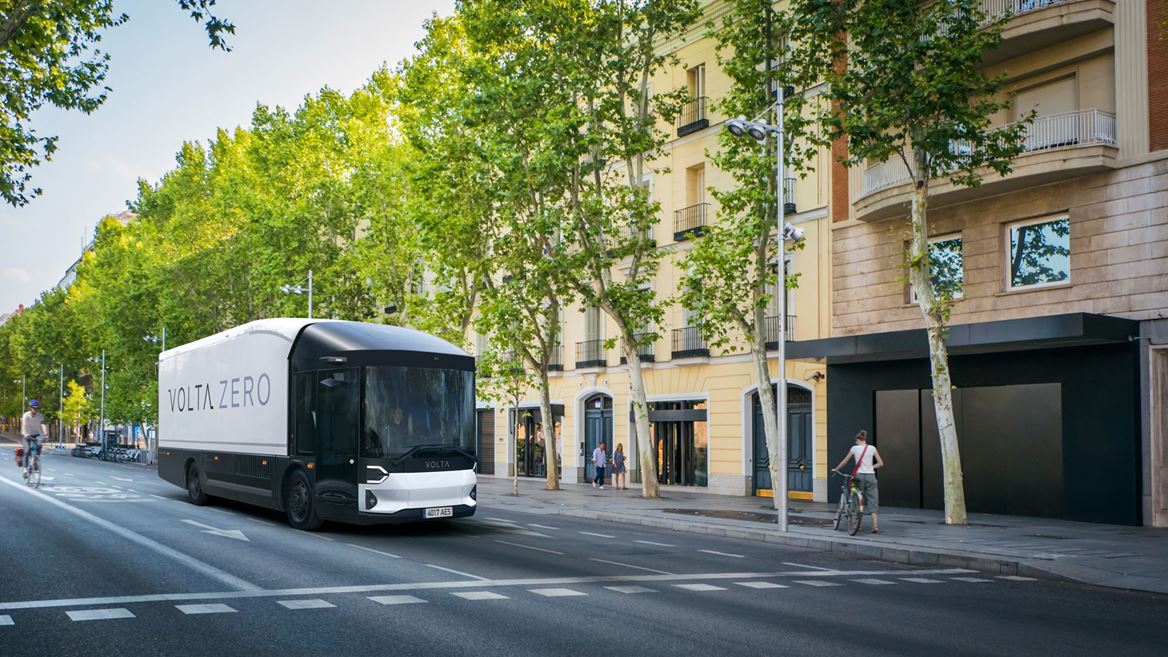 Volta Trucks publish first Life Cycle Assessment of all−electric Volta Zero

Cradle-to-grave life cycle assessment (LCA) of all-electric Volta Zero published.Volta Trucks committed to transparent communication of sustainability progress.Assessment of early prototype vehicle understood to be an industry first.
Volta Trucks, the all-electric commercial vehicle manufacturer and services provider, has completed an initial life cycle assessment of the all-new 16-tonne Volta Zero.
The company appointed Global Environmental and Engineering specialist, Ricardo, to undertake a cradle-to-grave Life Cycle Assessment of its pre-production 16-tonne ambient cargo box all-electric Volta Zero. Manufacturers have previously published Life Cycle Assessment reports on production vehicles, but an assessment of a prototype vehicle is understood to be an industry first and aligns with the brand's vision to be the industry leader in zero-tailpipe emission commercial vehicles and its commitment to transparent communication of its sustainability efforts.
The Life Cycle Assessment examined the carbon footprint of the 16-tonne all-electric Volta Zero from when it's produced to when it is recycled and disposed of after use, identifying which parts of that lifespan have the greatest impacts and potential opportunities for improvement.
The preliminary analysis summarised that charging the vehicle during its customer use phase is the largest contributor to the total lifetime emissions at 62%. Material extraction and the processing phase were the next major contributors at 33%.
Volta Trucks will now use this report to identify potential sustainability improvements across all areas of the business and with future product vehicle and manufacturing plans. Volta Trucks will continue to drive down supply chain emissions and ways to increase the lifespan of the trucks and batteries, and will also conduct a further full Life Cycle Analysis on a full-series production vehicle when possible.
Dr. David Amienyo, Sustainability Principal at Volta Trucks, commented: "For Volta Trucks to publish a life cycle assessment so early in the pre-production phase is testament to the transparency we're giving our sustainability efforts. We are now using the findings from this preliminary analysis to further improve the production specification vehicles to deliver on our ambitions of creating the most sustainable product possible to help combat climate change."
Notes to Editor
For the full report, visit: www.voltatrucks.com/life-cycle-analysis
About the Volta Zero
The Volta Zero is the world's first purpose-built all-electric 16-tonne vehicle designed for urban logistics, reducing the environmental impact of freight deliveries in city centres. The Volta Zero is designed from the ground up with an operating pure-electric range of 150 – 200 kms (95 – 125 miles).
Safety is also at the heart of Volta Trucks, with the ambition to produce the safest trucks for our cities. The Volta Zero was designed for electric from the outset, which facilitates a step-change in vehicle, driver and pedestrian safety. Thanks to the removal of the internal combustion engine, the operator of a Volta Zero sits in a central driving position, with a much lower seat height than a conventional truck. This combination, plus a glass house-style cab design, gives the driver a wide 220-degrees of visibility, minimising dangerous blind spots.
Volta Trucks is also innovating with its Truck as a Service proposition that has revolutionised the financing and servicing of commercial vehicle fleets. Truck as a Service offers fleet managers a frictionless and hassle-free way to electrify their fleet by offering an all-inclusive service for a single, affordable, monthly fee. It provides access to an all-electric Volta Zero, with its charging infrastructure needs provided by world-leader Siemens, insurance through Europe's premier insurtech broker, Qover, and servicing, maintenance, and training requirements, maximising the uptime and operational efficiency of the vehicle.
About Volta Trucks
Volta Trucks was founded in 2019 in Sweden. The company, focused primarily on operations across all major cities in Europe and the UK, is accelerating the transition to all-electric trucks, reducing the effects of climate change and helping make our cities safer, healthier and more sustainable for everyone. Volta Trucks has partnered with a number of global leaders in the supply chain for the development and production of the Volta Zero, at pace and scale. In total, Volta Trucks has raised over €360 million funding to date.
The company's contract manufacturing facility is in Steyr, Austria, where the production of customer-specification vehicles began in April 2023. The company has also established a network of 'Volta Trucks Hub' service and maintenance facilities in its launch markets, with the first four already announced in Bonneuil-sur-Marne, to the south of Paris, in Tottenham, London, Duisburg, to the west of the Rhine-Ruhr region in Germany, and in Madrid, Spain.