Wallet SAFU, a multi-chain non-custodial app announces the
Athens, Greece, Feb. 17, 2023 (GLOBE NEWSWIRE) — Wallet SAFU today announced its intention to launch a new token on Pinksale, date TBD. User privacy and anonymity are the main features of this lightweight wallet, owing to the project never storing private keys, backup files or any other data on the servers – ensuring 100% user protection. The Wallet SAFU app is also now available on the Play Store and, thanks to round-the-clock customer support, it is easier than ever for users to restore their crypto, even if they forget their key credentials.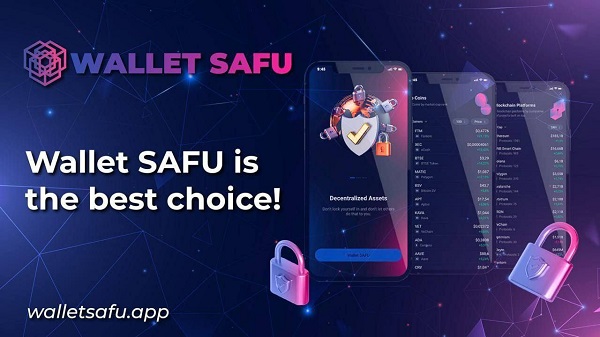 With Wallet SAFU, users need not enter personal data to create a wallet, or to deposit or withdraw funds. In fact, it is one of few crypto wallets which gives users total control over their funds as a non-custodial wallet. Its decentralized nature and blockchain capabilities ensure it is not possible to blockchain a user's wallet. The entire ecosystem is governed by its proprietary token $WSAFU. 
One of Wallet SAFU's developers said, "Our digital wallets have been developed to offer total security! Wallet SAFU makes it simple for everyone to store and manage cryptocurrency. We truly love, respect and appreciate blockchain technology – this is why the decentralization of Wallet SAFU's software, in accordance with blockchain fundamentals, is our top priority. 
"So, if you're a crypto lover, Wallet SAFU is the right choice for faster transactions – the likes of which are rarely seen!" 
With Wallet SAFU, users around the world can purchase crypto assets across many territories using their local currency via credit/debit card, Apple Pay, Union Pay, or VISA SEPA. The developers have clarified that a wider range of payment options will also become available in the future. 
Wallet SAFU also makes it easier to instantly exchange Bitcoin and other cryptocurrencies or tokens without registrations, limits, or verification approvals. Furthermore, staking and farming options are also available to those wishing to expand their crypto portfolio. 
$WSAFU is already pre-listed on Coingecko: https://www.coingecko.com/en/coins/wallet-safu
Find out more at: https://www.walletsafu.app/