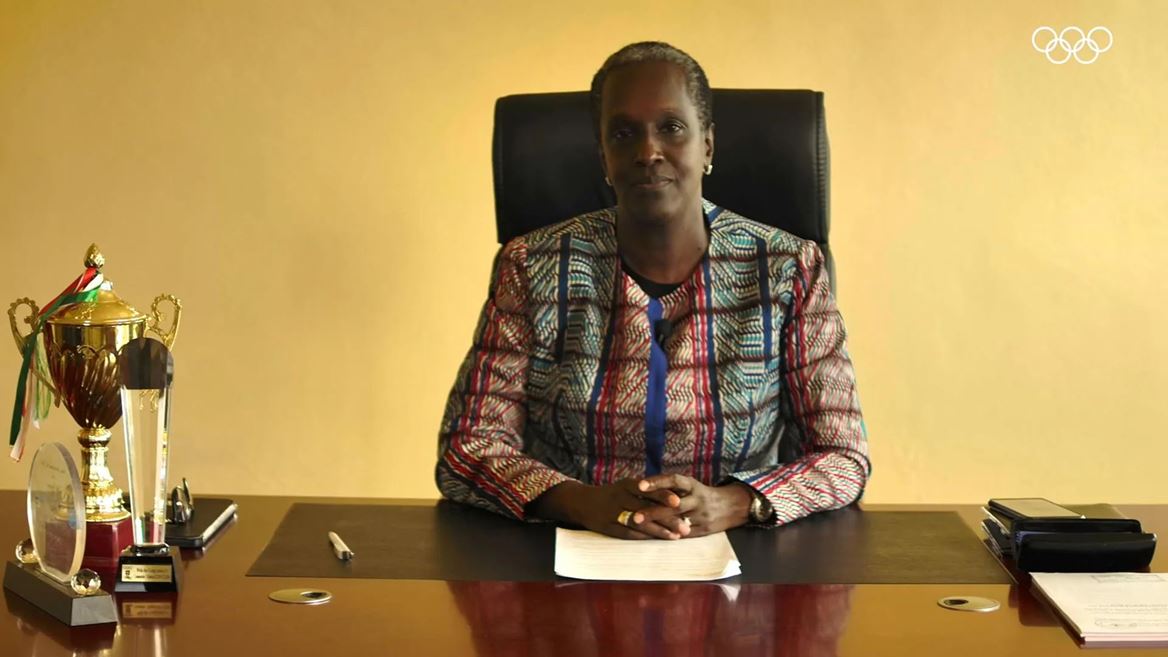 Women and Sport Conference closes with a call to action
18 Nov 2022 – The 8th International Working Group (IWG) World Conference on Women and Sport closed with a call to action developed over four days of meetings, reflection and shared determination to move the needle on gender equality in sport.
"We need to work holistically – together – if we want to bring about the necessary change in sport to ensure the inclusion of women in all their diversity," said Lydia Nsekera, Chair of the International Olympic Committee (IOC)'s Commission on Gender Equality, Diversity and Inclusion.
"We know that we are stronger together," she said.
Call to action
The conference closed with 11 young women taking the stage to deliver a call to action reflecting on the wealth of interactive workshops, panel discussions and inspiring leader speeches on diversity, policy, investment, youth, male allyship, safeguarding, climate change, portrayal, inclusion, and more.
The call to action included the following:
Put women, in all their diversity, at the heart of decision-making in every facet of sport and active recreation
Develop gender equity policy and investment focused on women coaches and officials at all levels
Normalise the inclusion of young voices
Encourage male allies to listen, speak out and act! Being silent is being complicit
Ensure safeguarding is embodied within the psyche of sport, from grassroots to elite
Collectively mobilise a movement in sport to eliminate discrimination against women and girls and provide a sense of belonging for all
Create safe spaces to have conversations about gender identity to ensure everyone has access to sport and physical activity
The time for climate change is yesterday – every small action you take adds up globally to make a difference
Make well-being the foundation of all sport and physical activity. Keep that foundation strong
If it's about me – include me! Bring athletes to the decision-making table
Deliver the same opportunities and resources for women as men, including pay equity
Showcase diverse sports role models in the media, challenging attitudes, and stereotypes
Schedule women's sports events in prime-time broadcasting slots
Innovate the coverage of women's sport (beyond traditional media) to leverage new consumers.
Four days to share experiences and set goals for the future
Supported by the IOC, the IWG on Women and Sport is the world's largest network for gender equity and equality, organising a conference every four years to bring together sector leaders from around the world in person and online.
This year's conference, which took place in Tāmaki Makaurau Auckland, Aotearoa New Zealand, from 14 to 17 November, saw some 1,200 attendees and a further 500 online getting inspired and sometimes challenged by more than 220 sessions delivered by nearly 500 international presenters both in person and virtually.
International leaders, sports representatives and young athletes all had space to express their concerns and future objectives during the conference.
Brian Lewis, immediate past President of the Trinidad and Tobago Olympic Committee and the President of the Caribbean Association of National Olympic Committees (CANOC), as well as a working group member of the IOC Gender Equality Review Project, advocated for men to play a more active role in the discussions, including as male allies.
Madeleine Pape, an Australian Olympian and IOC inclusion specialist said: "We need to listen, to learn, to understand. We need good policies that are looking out for women in all their diversity."
The largest gender-equal sporting event in the world
Driven by its vision to build a better world through sport, the IOC has organised the Olympic Games to be the largest gender-equal sporting event in the world. With a broadcast audience of more than three billion people, Tokyo 2020 was the first  gender-balanced Olympic Games in history. Paris 2024 is set to reach 100 per cent equality, with exactly 50 per cent male and female participation.
The IOC's focus for the 2021-2024 period is to build on these successes and contribute to the UN Sustainable Development Goals by focusing on five key areas: participation, leadership, safe sport, portrayal, and resource allocation.
"Gender equality, particularly in sport, is much more than a cause," said Lydia Nsekera. "It is a human right."
The IWG developed and is the guardian of the Brighton plus Helsinki 2014 Declaration on Women and Sport, which has nearly 600 signatures from global organisations demonstrating a commitment to gender equity.
The next IWG World Conference Women and Sport will take place in 2026 in Birmingham, UK.