ZShield Flex Wins Fast Company's Innovation by Design Award
South Carolina-based ZVerse Earns National Recognition for Disruptive Face Shield Design
COLUMBIA, S.C., Oct. 7, 2020 /PRNewswire/ — Fast Company has named the ZShield Flex a 2020 Innovation by Design Awards winner. The innovative face shield, designed and produced by Columbia, South Carolina-based digital manufacturing company ZVerse, joins notable brands including Spotify, Google and Disney+ in winning this coveted, national distinction.
One of the most sought-after design awards in the industry, Innovation by Design is the only competition to honor creative work at the intersection of design, business and innovation. ZVerse's ZShields have disrupted traditional face shield design with their sleek, lightweight visors that clip around the wearer's neck, making it comfortable for all-day wear. The product is a testament to ZVerse's tech-enabled manufacturing process, which quickly takes a product from idea to production with less friction and less waste.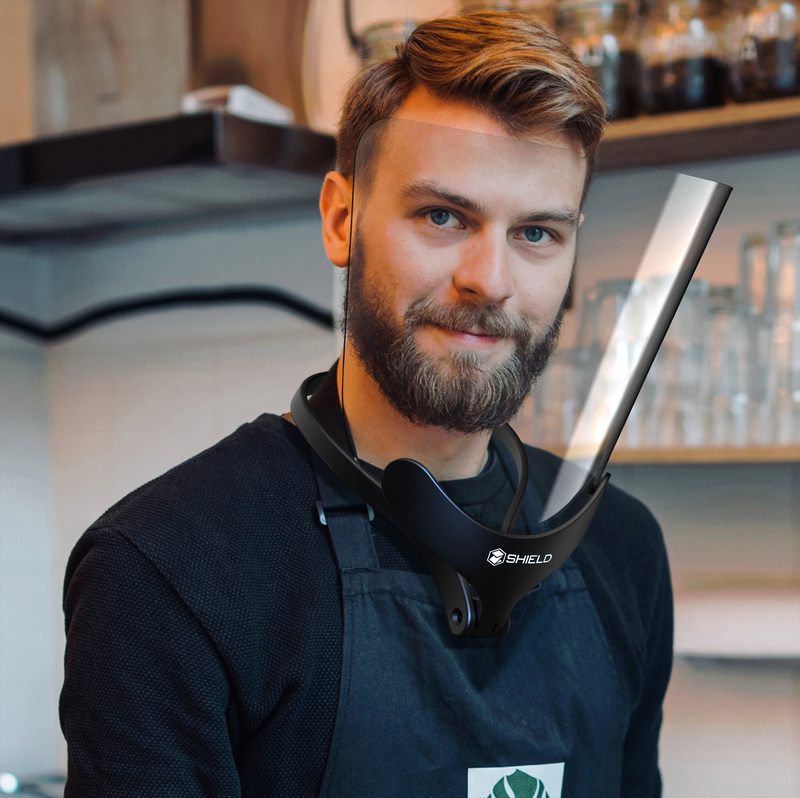 "We need innovative design more than ever, and the 2020 honorees have brought creativity, inventiveness, and humanity to address some of the world's most pressing problems, including the global pandemic, racial injustice, and economic inequality. Together these entries offer a glimpse into a future that is more inclusive, more accessible, and more just," said Stephanie Mehta, editor-in-chief of Fast Company.
The ZShield Flex is a winner in the Workplace category. The ZShield Flex also received an honorable mention in the Best Design of North America category alongside world-renowned companies such as Microsoft, Google and Logitech. Winners, finalists, and honorable mentions of Fast Company's Innovation by Design Awards are featured online and in the October/November issue of Fast Company magazine, on newsstands October 20. To see the complete list, go to: https://www.fastcompany.com/innovation-by-design/2020.
In late March, 2020 ZVerse founder John Carrington recognized the immediate, growing need for personal protective equipment (PPE) and adapted the ZVerse business model to accelerate the mass production of face shields in response to a call for help from a healthcare community struggling to respond to COVID-19.
The company first focused on shielding frontline healthcare workers, and later expanded its offerings to serve other industries returning to work, such as food service, hospitality and education. The company partnered with one of the nation's top industrial designers, Scott Henderson, to design a new face shield for the "new normal."
"At the onset of the pandemic, we recognized our unique role in the world as great enablers of digital manufacturing, and we pivoted to become one of the largest producers of face shields to serve our country's urgent need for PPE," said John Carrington, founder and CEO of ZVerse. ""After launching with ZShield Health, we brought on Scott Henderson to reimagine the traditional face shield design and create a product that would be comfortable for a variety of work environments, as well as everyday life. Going to market with such a novel design and seeing it in use by so many people and industries has been a humbling experience. We're honored to be recognized by Fast Company for our work; it's truly been a labor of love."
The team tested more than a dozen face shield designs before landing on the final product: the ZShield Flex, a modern, reusable face shield made in the U.S. In addition to its unique neck mount, the ZShield Flex has the ability to flip down for idle use, all without ever touching your face or masking your smile. The ultra-lightweight shield allows for all-day comfort and wear, ideal for long shifts and professions that require facial expressions, while shielding users from spray, splatter and the direct transfer of respiratory droplets.
"When ZVerse originally contacted me about collaborating, I immediately realized how historic this moment was and felt an urgent need to help with the project," said Scott Henderson, designer of the ZShield Flex. ""Prior to COVID-19, face shields weren't considered an essential accessory outside of the healthcare and medical science industry. After a century of little innovation in regard to face shield design, I am so proud of our team for applying out-of-the-box critical thinking to create this new option for PPE."
ZVerse has produced more than four million face shields to date, making the company one of the largest face shield producers in the country. To meet the high demand, ZVerse has nearly tripled its workforce during the pandemic and supported the local South Carolina economy through job creation.
The ZShield product line has quickly grown to accommodate various industries ranging from hospitality to education to beauty to film. Most recently, the ZShield has caught the attention of major players in Hollywood, including the production teams and casts of Black-ish, The West Wing and The Last Duel, featuring Matt Damon and Jodie Comer. The contactless shield and neck mount allow actors and actresses to wear the shield during breaks without disturbing hair and makeup. Other recognized ZShield customers include: Chick-fil-A, Four Seasons Hotels and Resorts, Great Clips, Kaiser Permanente, Walgreens and Disney.
To learn more about ZVerse, follow the company on Instagram, Facebook and Twitter or visit zverse.com. To try ZShield, visit tryzshield.com.
About ZVerse:
Founded by John Carrington in 2013, ZVerse is a digital manufacturing ecosystem, bridging the design gap for manufacturers at scale through its AI-enabled CAD as a Service (CADaaS) platform and certified designer network. Its modular solution of services, fully configurable to specific customer needs, disrupts the traditional manufacturing landscape with vast efficiency by providing the fastest path from idea to finished product.
In March 2020, ZVerse recognized its unique ability to mass produce face shields and contribute to the urgent need for Personal Protective Equipment (PPE) in response to the pandemic. The company has since launched a hugely successful line of face shield products, providing millions of ZShields to frontline workers, educators, restaurant owners and the community at large. ZVerse is based in Columbia, South Carolina with a network of world-class industrial engineers, suppliers and manufacturers across the U.S.
About Fast Company:
Fast Company is the only media brand fully dedicated to the vital intersection of business, innovation, and design, engaging the most influential leaders, companies, and thinkers on the future of business. The editor-in-chief is Stephanie Mehta. Headquartered in New York City, Fast Company is published by Mansueto Ventures LLC, along with our sister publication, Inc., and can be found online at fastcompany.com.
For more information, contact:
Britni Johnson
The Wilbert Group
912-580-7241 (M)
bjohnson@thewilbertgroup.com
SOURCE ZVerse

ZVerse Logo
(This News has not been edited by the Life Care team, it is published directly from the agency feed.)
Friends if you like this post, please hit the like button below and share this post with your family, friends and colleagues for more news, articles and updates. Like our Facebook Page, Subscribe Our YouTube Channel And Follow Us On Twitter.