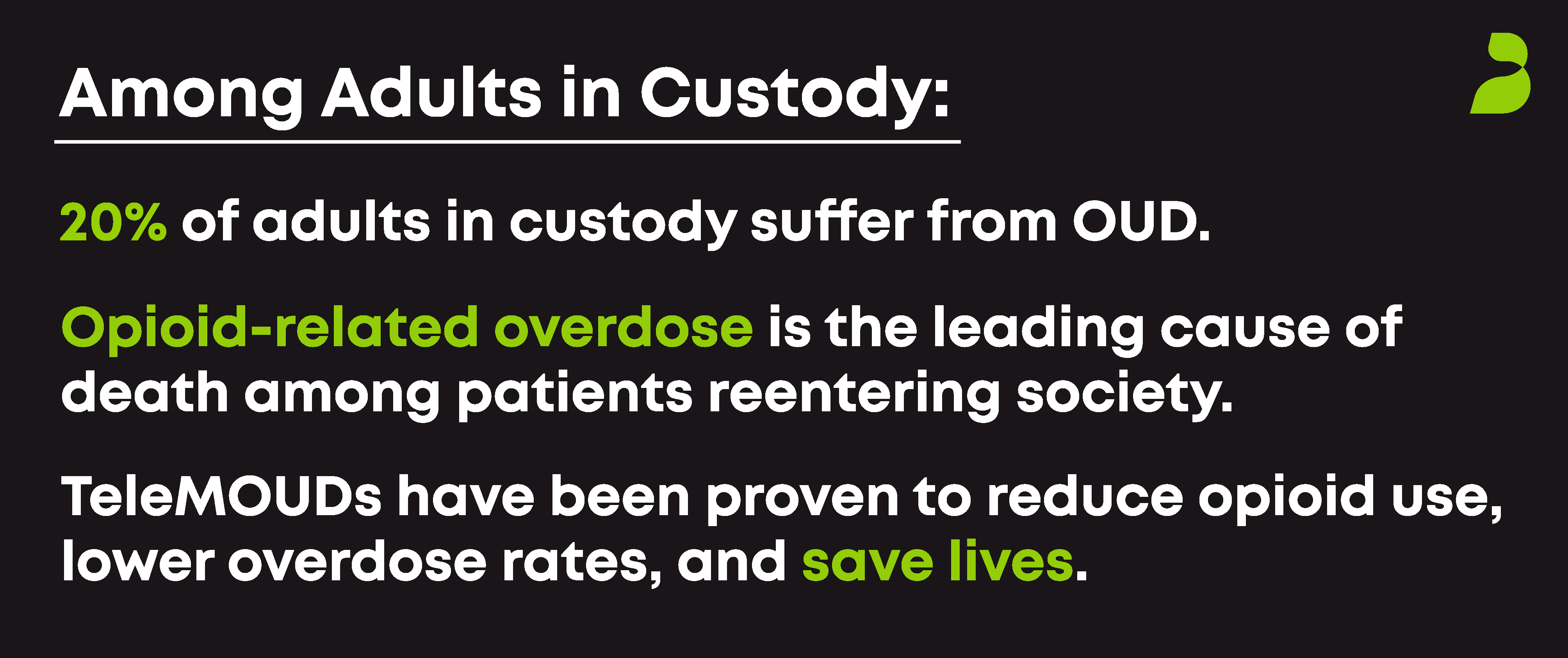 Medication for opioid use disorder (MOUD) is considered the gold standard of care for individuals with opioid use disorder (OUD).
The Consolidated Appropriations Act, 2023 (CAA), signed by President Biden in December 2022, provided millions in funding to enhance access to MOUD for those in the criminal justice system.Overdose death rates among individuals released from prison are 129 times higher than in the general population, and recidivism declines by 25 percent when incarcerated individuals have access to MOUD after being released from prison.Injectable buprenorphine is a frequently prescribed form of MOUD for incarcerated adults, and Bicycle Health's clinicians can now prescribe Sublocade via telehealth for Wellpath patients.
BOSTON, Nov. 16, 2023 (GLOBE NEWSWIRE) —  Patients transitioning from federal prison to Federal Residential Reentry Centers now have access to injectable buprenorphine (Sublocade) through Bicycle Health, the nation's largest provider of telemedicine treatment for opioid use disorder (OUD), in collaboration with Wellpath, the leading provider of compassionate care to vulnerable patients in challenging clinical environments. In February 2023, Wellpath entered into an affiliation agreement with Bicycle Health to offer virtual Medication for Opioid Use Disorder (MOUD) treatment to Wellpath patients.
Injectable buprenorphine (Sublocade) is a widely used form of MOUD for adults in custody. Wellpath patients receiving MOUD care with Sublocade during incarceration can now seamlessly continue their MOUD treatment without interruptions when transitioning to reentry centers (halfway houses) served by Bicycle Health. Injectable buprenorphine is administered monthly, making it less susceptible to treatment interruptions compared to oral buprenorphine, which is often difficult to access and must be taken daily.
"Our collaboration with Bicycle Health allows us to offer telemedicine-first treatment options, which have become the gold standard for OUD treatment and exceed community care standards. This is especially crucial for our patients during their vulnerable period," says Dr. Thomas Pangburn, Chief Clinical Officer at Wellpath. "Our goal is to keep these patients alive and out of prison, knowing that recidivism rates decrease by nearly 25 percent when incarcerated individuals have access to MOUD treatment."
On average, 20 percent of adults in custody suffer from OUD, and opioid-related overdose is the leading cause of death among patients reentering society from prison. Medications for opioid use disorder via telehealth (teleMOUDs) have been proven to reduce opioid use, lower overdose rates, decrease healthcare costs, and save lives.
The affiliation between Bicycle Health and Wellpath began in February and has provided care to over 1,000 patients residing in 122 FBOP Residential Reentry Centers (RRC) across 42 states. The program enrolls patients, often at high risk of overdose, in Bicycle Health's evidence-based virtual care system and regular diagnostic testing in FBOP's reentry centers.
"Access to Sublocade can be life-saving. We've found it to be an appropriate and effective form of medication for many patients, including those leaving the prison system. It can be administered to patients who are reentering the community with zero risk of diversion," said Dr. Brian Clear, Chief Medical Officer at Bicycle Health. "Sublocade is commonly prescribed within the prison system, and our ability to continue prescribing it for patients after their release has the potential to make their transition smoother and reduce their risk of relapse."
In the past year, Bicycle Health has formed partnerships with various strategic healthcare partners to ensure patients can access affordable, convenient, and confidential treatment that is effective. To learn more about the role teleMOUD can play in combating America's opioid epidemic, visit OUDhelp.com.
About Bicycle Health
Bicycle Health is America's #1 telehealth provider of medications for opioid use disorder (MOUD), offering an evidence-based clinical care model that includes FDA-approved Medications for Addiction Treatment (MAT), access to a highly-trained team of medical experts, therapy, a customized treatment plan, and peer support groups. Bicycle Health's mission is to address the country's most severe public health crisis by providing access to affordable, convenient, and confidential tele-MOUD treatment for individuals in need and helping to reduce stigmas associated with opioid addiction. For more information, visit www.bicyclehealth.com.
About Wellpath
Wellpath is the premier provider of localized, high-quality, compassionate care to vulnerable patients in challenging clinical environments. Wellpath holds patients at the center of everything we do and promotes rigorous standards of care and innovation. With more than 15,000 clinicians and professionals in 37 states across the U.S. and Australia, Wellpath provides medical and mental healthcare services to over 300,000 patients daily in more than 550 facilities, including prisons, jails, state hospitals, forensic treatment, civil commitment centers, and community-based services. Learn more at wellpathcare.com. Wellpath is always looking for great healthcare professionals. Check out our nursing jobs, provider jobs, and mental health professional jobs at our Wellpath Careers website: www.wellpathcareers.com.
Bicycle Health Contact:
LaunchSquad for Bicycle Health
bicyclehealth@launchsquad.com
Wellpath Contact:
Craig Diamond
SVP Marketing & Communications
858-283-8643
A photo accompanying this announcement is available at https://www.globenewswire.com/NewsRoom/AttachmentNg/36cf9cb8-f504-4543-bcb8-f4ff16ebedf5
A photo accompanying this announcement is available at https://www.globenewswire.com/NewsRoom/AttachmentNg/3a5031ff-8dd6-4cf3-994c-edfdfa701f48