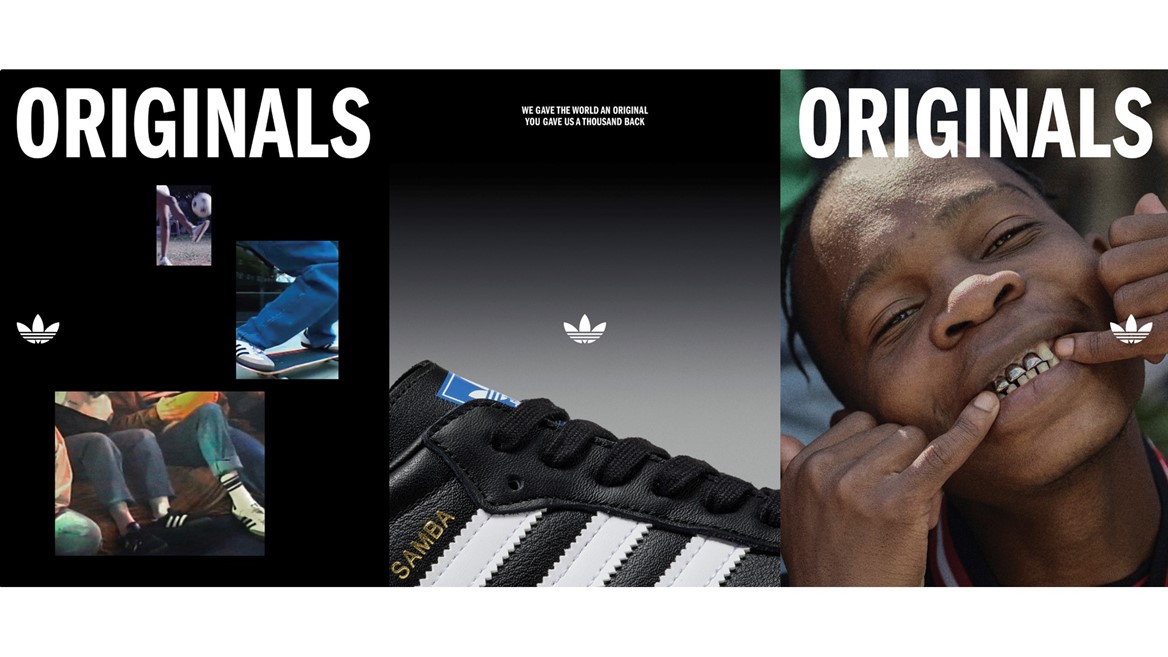 "We Gave the World an Original. You Gave Us a Thousand Back."
Since it was first introduced to the world over 50 years ago, the Trefoil has lived a thousand lifetimes, trading feet with everyone, from athletes to cultural pioneers. Marking the arrival of a new era for the brand, in 2023, adidas Originals pays homage to those that have continued to transport its iconic signifier – the Trefoil – to the forefront of culture, over and over again, with a new global brand platform: "We Gave the World an Original. You Gave Us a Thousand Back."
From sport to skate, music, and fashion, Originals have always stood the test of time. Celebrating this enduring story, the Trefoil returns with a new chapter, headlined by three films shot by three creative pioneers, and a selection of stills arranged in triptychs, each focusing on three timeless 'characters' from the storied Three Stripes archive – the Superstar, the Gazelle, and the Samba. With each film and set of images spotlighting a different silhouette, the narratives of the Trefoil's history are interwoven with the ways in which these iconic styles, born in sport, have been embraced, reinterpreted, and absorbed into culture – time and time again.
First up, the celebrated director and founder of LoveSong production studio, Daniel Wolfe, lends his creative eye to the Superstar, as well as acting as a mentor for the other emerging directors in the series. Built for basketball, but adopted by Hip Hop, the classic leather Superstar changed the game the moment it stepped off the court and now its premium construction and timeless silhouette make it a ubiquitous icon. Wolfe's film charts this journey from court icon to cultural powerhouse, including a cameo from famed Hip-Hop group RUN DMC who shook the world wearing the Shell Toe. 
Next, racing from podiums to skate parks around the world, though the Gazelle started as a trainer, its lightweight classic suede upper and gum sole have become symbolic of those who are willing to veer off-track in the pursuit of innovation. The self-taught moving image maker, Will Dohrn, tells the story of the iconic silhouette through the lens of a young protagonist who moves across eras – dressed in archival adidas apparel, true to the timeline – meeting pro-skate duo Mike Arnold and Miles Silvas along the way.
Rounding out the trio is the Samba. First making headlines in soccer, the shoe's low-profile silhouette and gum sole have since become synonymous with subverting trends across the globe. The celebrated visual artist, Justyna Obasi, captures the mythical tale of the Samba's travels across time and space, beginning with the fluid footwork of young soccer players and ending in the many cultural scenes that have made the shoe their own.
Each film is accompanied by a set of triptych stills shot by Chadwick Tyler, with some sets featuring partners, collaborators, and friends of the brand that have helped to tell the story of the Trefoil the world over including: Zinedine Zidane, Jenna Ortega, Pusha T, Anitta, HoYeon Jung, David Beckham, Jennie Kim, Stormzy.
Three Stripes. Three signature icons. Three films. A thousand Originals.
The latest adidas Originals brand campaign is a collection of timeless stories; retold for tomorrow.
Link to Superstar film: https://youtu.be/rppnBbcdvsY
Link to Gazelle film: https://youtu.be/xsEBKATzLGw
Link to Samba film: https://youtu.be/uFd7bQD6A5U
@adidasOriginals