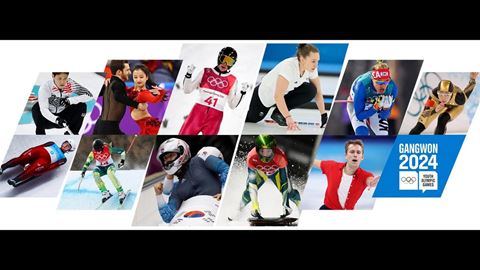 14 Nov 2023 – Seventeen Olympic champions, Olympic medallists and Olympians, all former or current world-class athletes, have been announced as Athlete Role Models (ARMs) for the Winter Youth Olympic Games (YOG) Gangwon 2024. They will support, advise and inspire the young athletes taking part.
The ARM Programme is part of the wider Athlete Education Programme (AEP), which was designed to maximise the learning experience of all the athletes and their entourage members during the YOG. The ARMs will act as mentors for those competing in Gangwon, sharing the experience and knowledge they have gained from their own Olympic careers. The ARMs will be on hand in Gangwon to support the young athletes during training and competitions, and in the Youth Olympic Village during a series of educational activities and workshops.
They are:
Jackie Narracott (AUS, skeleton)Won Yun-jong (KOR, bobsleigh)Jennifer Dodds (GBR, curling)Kim Chang-min (KOR, curling)Eliza Tiruma (LAT, luge)Sascha Benecken (GER, luge)Vanessa Hinz (GER, biathlon)Dominik Windisch (ITA, biathlon)Min Yura (KOR, figure skating)Michal Brezina (CZE, figure skating)Nao Kodaira (JPN, speed skating)Viktor Polasek (CZE, ski jumping)Carina Vogt (GER, ski jumping)Han Da Som (KOR, cross-country skiing)Magnus Boee (NOR, cross-country skiing)Sami Kennedy-Sim (AUS, freestyle skiing)Eric Frenzel (GER, Nordic combined)
The Director of the IOC Athletes' Department, Kaveh Mehrabi, said: "Young athletes look up to Olympians and seek to follow in their footsteps in sport and beyond the field of play. It is exactly for this reason that these outstanding Athlete Role Models will play a pivotal role at the Youth Olympic Games Gangwon 2024." He continued: "These role models will contribute immensely to achieving the mission of Gangwon 2024, as they embody the values of Olympism and serve as beacons of excellence, respect and friendship, guiding the young athletes in achieving their own dreams."
Speaking about his selection as an ARM, Korean bobsledder Won Yun-jong – who won a silver medal in the four-man event at the Olympic Winter Games PyeongChang 2018 – revealed his excitement at being able to help the young athletes in Gangwon.
"It's a huge honour," he said. "I won silver in the four-man bobsleigh at PyeongChang 2018, and Gangwon 2024 will be held in the same country, so it will be a special experience for me. I cannot wait to share my advice with the younger generation."
Jackie Narracott, who made history at the Olympic Winter Games Beijing 2022 by becoming the first Australian to win an Olympic medal in skeleton, also revealed her enthusiasm about being chosen as an ARM.
"As soon as I got the opportunity, I was so excited," she said. "I get to return to Korea, a country that I love, and I get to pass on my knowledge to the next generation so that they can hopefully enjoy a wonderful first Olympic experience. Over the last two years, I've realised that I want to learn how to use my experience to help make young athletes' journeys as easy as possible. I want them to have the knowledge needed to make the best decisions for themselves."
German luger Sascha Benecken spoke about focusing on the journey and not the results, saying: "I would like to share my experiences with young people regarding performance, success, inner and outer pressure, and how our personal worth is not determined by the number of medals, but rather that the journey to success holds the true values."
British curler Jen Dodds also revealed how she's looking forward to passing on the knowledge that she's gained from her career to the young athletes dreaming of emulating her success at elite level, which saw her win gold at Beijing 2022.
"I never got to compete in the Youth Olympic Games, so this will be my first experience. It's such a great stepping stone for young athletes, and I'm excited to see what they get up to," she said. "My core values have always been around enjoyment. That's a message that I really want to bring to the role. I just want to pass on any knowledge and be there to offer support. I'll be an open book."
Norwegian Magnus Boee, who previously represented the Republic of Korea and was a gold medallist at the YOG Lillehammer 2016 in 10km freestyle and cross country, spoke about his experience at the YOG: "I have been a part of the Winter YOG in the past, and know how much it can mean to a young individual. I want to promote and enhance their motivation and drive to grow the sport the way I do."
The ARM Programme has been an integral part of the YOG since the first edition in Singapore in 2010, providing the young athletes competing with a chance to learn from experienced Olympians.
The ARMs are not only on site during competition to speak with the young athletes; they are also involved in the educational activities taking place at Athlete365 House as part of the AEP. These include discussing skills and topics to help the athletes' development, such as career management, injury prevention, digital storytelling and more. For example, in the pre-YOG programme, young athletes and their entourage are encouraged to take an e-learning course on Athlete365 to learn more about the prevention of competition manipulation, and safeguarding, mental health and anti-doping. The course is available in 10 languages.
The ARMs, in coordination with each International Federation, will host Inside Sport Sessions, providing an opportunity for the young athletes to dive deeper into their sport with tailored Q&A sessions, sports demonstrations and even fireside chats depending on the sport.
Tickets for Gangwon 2024 are now up for grabs and can be bought here: https://tickets.gangwon2024.org. The Gangwon 2024 Organising Committee, with the collaboration of the PyeongChang Legacy Foundation, has produced a video for the YOG and the promotion of the ticketing platform.
The Winter YOG Gangwon 2024 will take place from 19 January to 1 February 2024, with approximately 1,900 athletes from 81 National Olympic Committees expected to take part.
Gangwon was elected as the host of the 4th Winter YOG at the 135th IOC Session in Lausanne, Switzerland, on 10 January 2020. Events will be held in four locations across the Gangwon region – Gangneung, PyeongChang, Jeongseon and Hoengseong – and will build upon the legacy of the Olympic Winter Games PyeongChang 2018 by using some of the same facilities.