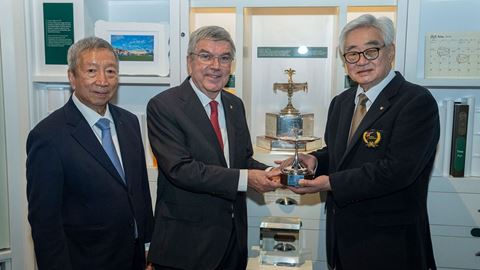 15 Nov 2023 – The 2023 Olympic Cup has been awarded to the Taekwondo Humanitarian Foundation (THF) in recognition of its long-term commitment to supporting refugee athletes and refugees worldwide through taekwondo. The President of the International Olympic Committee (IOC), Thomas Bach, presented the Cup in a ceremony at the Olympic Museum in Lausanne.
"World Taekwondo, through its Foundation, shares our belief in sport as a force for good in the world. The Taekwondo Humanitarian Foundation carries this power of sport to those who need it most: to refugees worldwide and in particular to children and youth, empowering and educating them through taekwondo," said the IOC President.
"Through your programmes and academies in refugee camps in Jordan, Rwanda, Eswatini and Türkiye, or in cities with large populations of displaced people, like Paris or right here in Lausanne, you are bringing hope through sport to one of the most vulnerable groups in society today," Bach continued.
Founded by World Taekwondo President Chungwon Choue at the United Nations headquarters in New York in 2015, the THF aims to empower refugees worldwide through taekwondo, helping them to improve their quality of life, develop their life skills, learn the Olympic values and pursue their dreams.
Partner of the IOC Refugee Olympic Team
World Taekwondo was a partner from the very beginning when the IOC created the first-ever IOC Refugee Olympic Team for the Olympic Games Rio 2016.
Subsequently, three taekwondo athletes competed for the Refugee Olympic Team at Tokyo 2020: Kimia Alizadeh Zonouzi, Dina Pouryounes Langeroudi and Abdullah Sediqi. Among the 63 current refugee scholarship-holders aiming to qualify for the Olympic Games Paris 2024 next summer, 14 are taekwondo athletes.
"This support is something that I will never forget and for which I am very grateful. Today, the Taekwondo Humanitarian Foundation is contributing to the development of refugee athletes chasing their Olympic dream," stressed President Bach.
Fostering inclusion through taekwondo in the Île-de-France region
The THF is also one of the implementing partners of Terrains d'Avenir, a programme co-financed by the Olympic Refuge Foundation (ORF) and the French Ministry of Sport and the Olympic and Paralympic Games. The programme aims to provide 7,000 young displaced people in the Île-de-France region with access to sport by 2025. Terrains d'Avenir is the very first ORF initiative in Europe and demonstrates how sport promotes inclusion and helps create a sense of belonging among refugees and their host communities. Its ambition is to have an impact long after the Olympic Games.
A unique award
The Olympic Cup is a unique award and was created  by the IOC's founder, Pierre de Coubertin. It was first awarded in 1906. The Olympic Cup is the highest distinction for an organisation with a proven record of promoting the ideals of the Olympic Movement.
During the ceremony, World Taekwondo also made a donation of a taekwondo statue to the Olympic Museum.