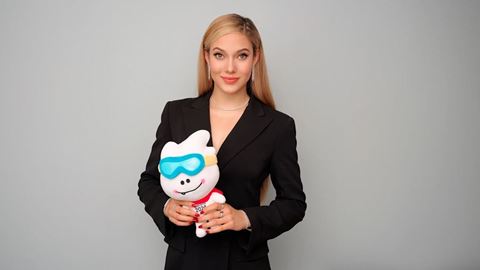 China's two-time Olympic and Youth Olympic freestyle skiing champion and record-holder Eileen Gu will be the Global Ambassador for the Winter Youth Olympic Games (YOG) Gangwon 2024. This was announced by the International Olympic Committee (IOC).
30 November 2023 – The 20-year-old captured the attention of sports fans around the world with her record-breaking performances at the Olympic Winter Games Beijing 2022, where she topped the podium in both halfpipe and big air and won silver in slopestyle, and will now serve as an inspirational role model for the young athletes at the YOG.
Gu herself is no stranger to the Youth Olympic stage, having competed in the Winter YOG Lausanne 2020, where she also won gold in halfpipe and big air and silver in slopestyle. Her journey from Youth Olympic champion to Olympic champion is sure to motivate those competing in Gangwon, who will be hoping to emulate her incredible achievements.
Speaking about her appointment, Gu said: "It is an honour to be named Global Ambassador for the Winter YOG Gangwon 2024, as this event and the values it champions align perfectly with the message, I hope to spread to young people worldwide: sport is for everyone, regardless of gender, age, ability, geographic location and religion."
As well as being a role model to look up to for the young athletes, Gu will be actively promoting Gangwon 2024 to her millions of followers across social media, helping to raise awareness and increase global interest in the YOG.
IOC President Thomas Bach expressed his enthusiasm for Gu's appointment, stating: "Welcome back to the Youth Olympic Games, Eileen. This is where it all started for you."
He continued: "Eileen is an exceptional athlete and an inspiring figure for young people everywhere. Her role as a Global Ambassador for the Winter YOG Gangwon 2024 will undoubtedly have a profound impact on aspiring young athletes and will help to further spread the Olympic spirit around the world."
Having competed in the YOG herself, Gu also shared some words of wisdom for those young athletes currently preparing for Gangwon 2024 about how they can make the most of their time at the Games.
"My best piece of advice to a young athlete coming to Gangwon 2024 is to relish the experience," she said. "Unlike the Olympics, the YOG only happen once in a young athlete's career. It is a one-of-a-kind opportunity to learn from and connect with like-minded young people who share similar experiences, values and passions who come from different backgrounds. Be open-minded! Listen and learn, and don't forget to enjoy yourself! I can't wait to see all the amazing performances from the best young athletes around the globe!"
The Winter YOG Lausanne 2020 proved to be the perfect launching pad for Gu, who went on to make one of the most impressive debuts in X Games history in 2021, as she became the first rookie to win a medal in all three events in which she competed. Her gold medals in superpipe and slopestyle were also the first for a Chinese athlete at the X Games, and she went on to win world titles the following month in both halfpipe and slopestyle, underlining her status as freestyle skiing's newest star.
After confirming her star status at Beijing 2022 with her medal-winning performances, Gu paid tribute to the benefits she enjoyed from competing in the YOG ahead of her Olympic debut.
"I think it set me up well," she said. "It built confidence for me in terms of competing on a global scale, and I think it allowed me to have a taste of that experience before the real thing. It was an amazing little appetiser."
The Winter YOG Gangwon 2024 will take place from 19 January to 1 February 2024, with approximately 1,900 athletes from 81 National Olympic Committees expected to take part. Fans who want to see the next generation of potential winter sports stars can now apply for their tickets for Gangwon 2024 on tickets.gangwon2024.org.
Gangwon was elected as the host of the 4th Winter YOG at the 135th IOC Session in Lausanne, Switzerland, on 10 January 2020. Events will be held in four locations across the Gangwon region – Gangneung, PyeongChang, Jeongseon and Hoengseong – and will build upon the legacy of the Olympic Winter Games PyeongChang 2018 by using some of the same facilities.